Roasting radishes transforms them from crisp and peppery to tender and mellow, and an air fryer makes the process so easy! These air fryer radishes are lightly seasoned with lemon and garlic and make a deliciously healthy snack or side dish. Ready in 25 minutes; oil-free option.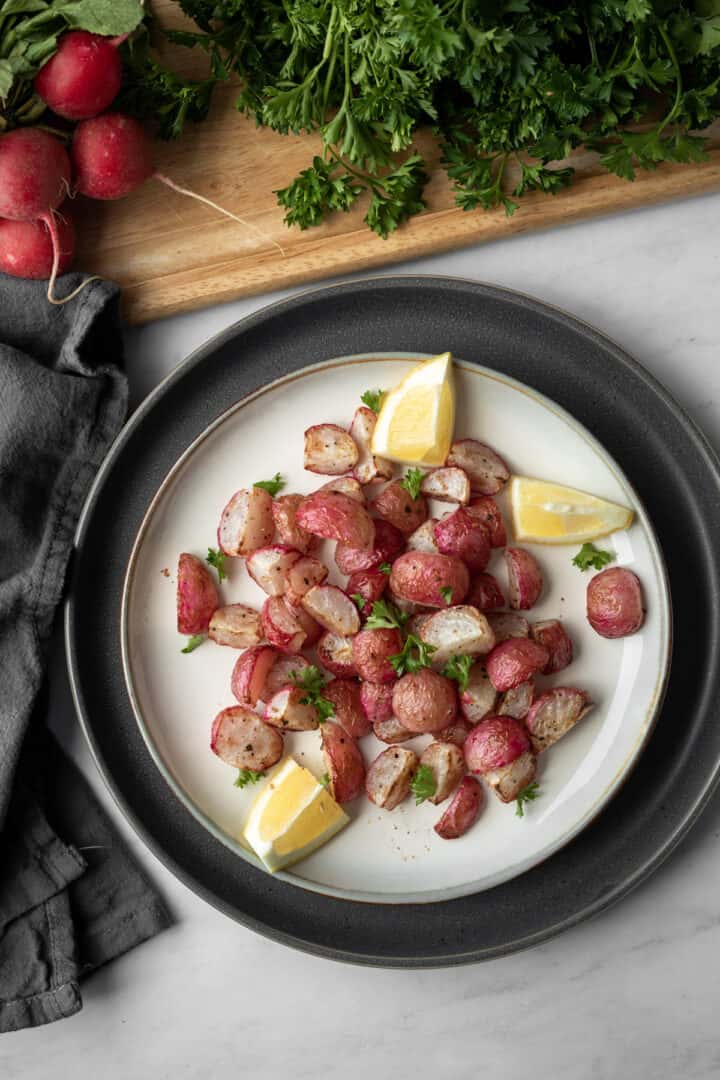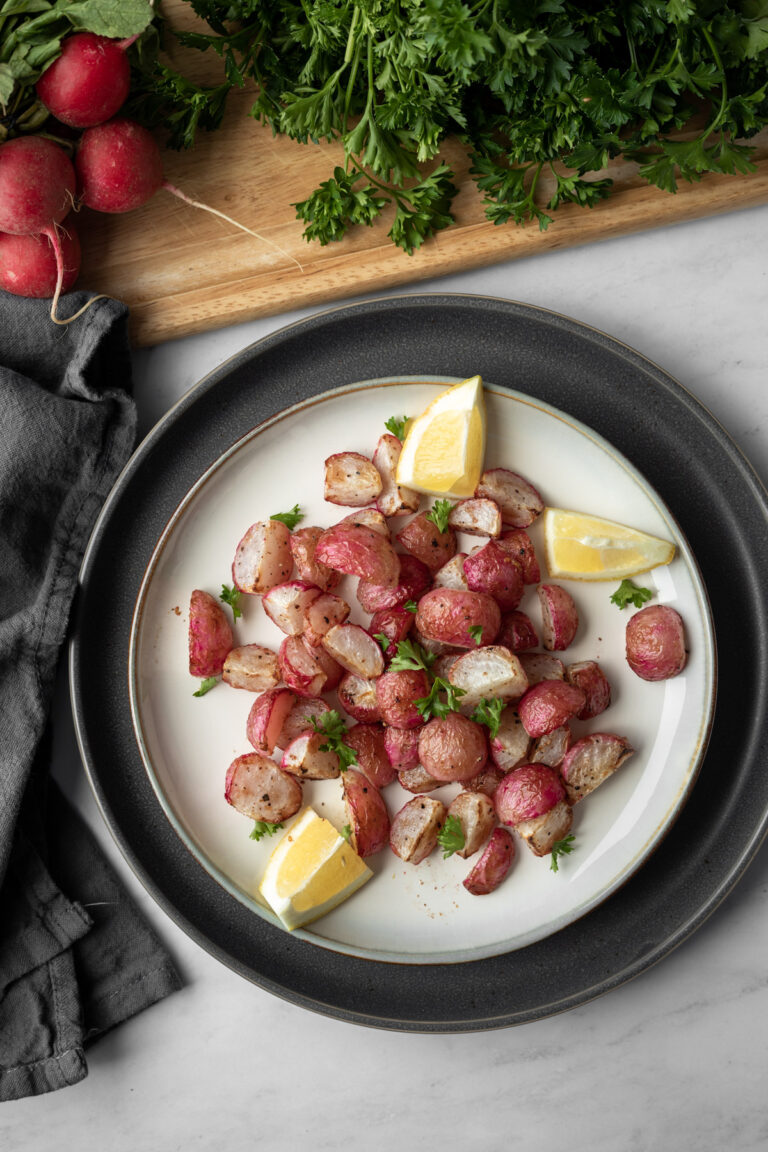 Why We Love This Recipe
Flavor
Roasted air fryer radishes are so delightfully mellow and versatile. They remind me of other mild root vegetables, like parsnips, and yet they have their own unique flavor.
Healthy and Light
Roasting mellows out the usual peppery bite of raw radishes and makes them incredibly easy to eat. Since radishes are so low in calories, I really enjoy snacking on these before dinner because they hold me over without ruining my appetite!
Versatile
Similar to potatoes, roasted radishes are a blank slate for your favorite spices, seasonings, and sauces. See my favorite sauce ideas below.
Quick
Simply wash and trim the radishes, toss with seasonings, then air fry. This recipe takes about 25 minutes start to finish.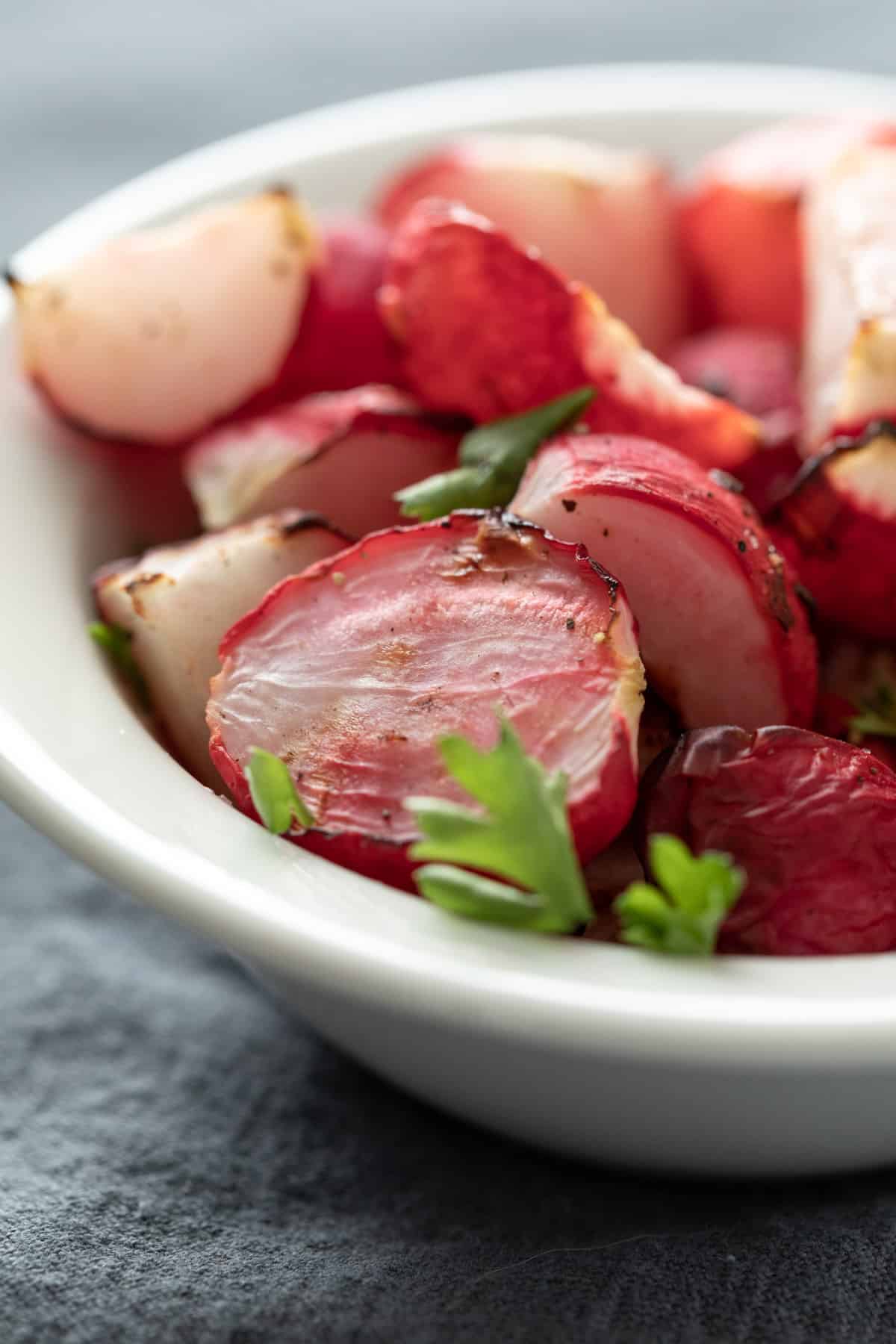 Equipment Needed
Obviously, an air fryer is part of what makes this recipe so fun and easy. But don't worry if you don't have one!
Radishes can also be roasted in the oven. Instructions for oven-roasting are included in the Notes section of the recipe. It's also very easy but takes just a few minutes longer.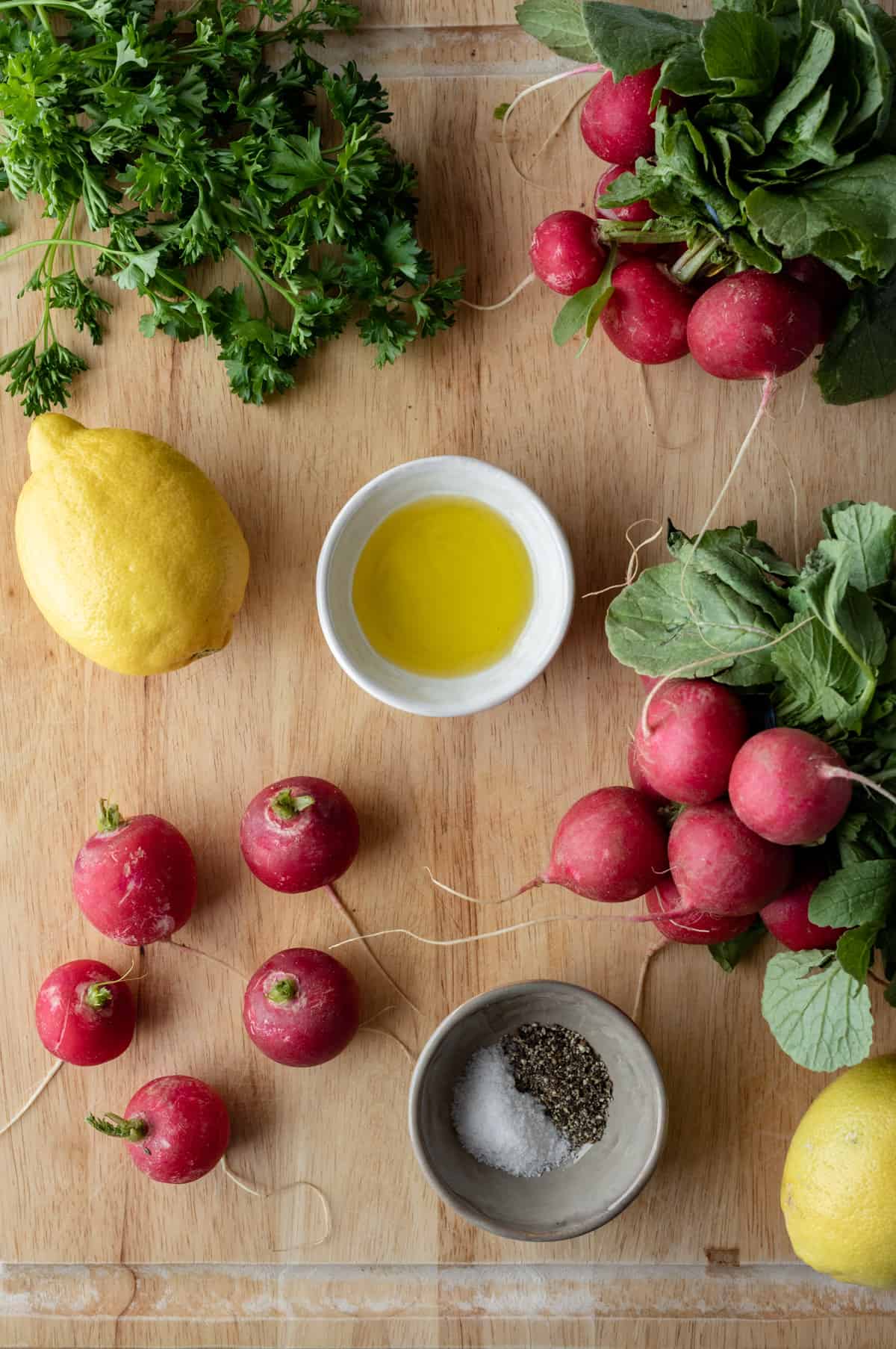 Step By Step Instructions
Wash and trim the radishes. Cut larger ones into quarters and smaller radishes in half so that the pieces are similar in size.
In a large bowl toss the radishes with oil (or lemon juice for oil-free), lemon zest, garlic powder, salt, and pepper.
Preheat your air fryer to 380 degrees F. Transfer the radishes into the air fryer basket, arranging them in a single layer. For the oil-free version, be sure to leave the excess lemon juice in the bowl.
Air fry for about 10 minutes, shaking the basket after 6 minutes.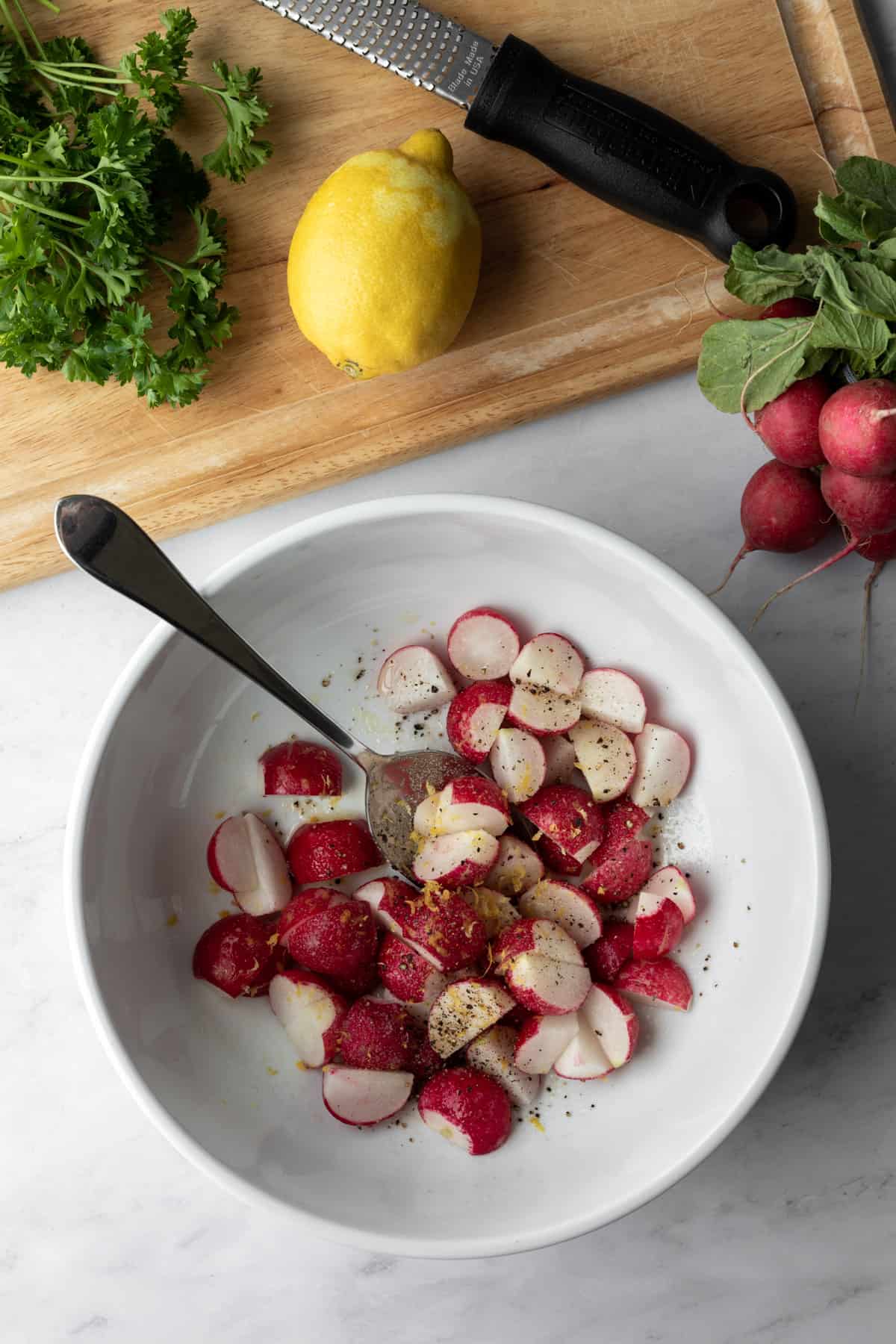 Helpful Tips
If you're lucky enough to find radish bunches with fresh-looking greens on top, put those greens to use before they go bad! Radish greens can be sautéed, similar to spinach, chard, or kale, or used raw in salads, pesto, or zhoug sauce. It's best to separate the greens from the radishes as soon as you get home because they don't last long. Then wash and dry them, store in the refrigerator as you would any type of green, and use within a day or two.
Similar to ovens, air fryers may perform differently. So the first time you try the recipe it's a good idea to keep a close eye on the radishes in the last few minutes.
If you prefer a crisp-tender texture, decrease the cook time by about 2 minutes. For fully tender radishes, increase the cook time slightly. In our Instant Pot Vortex air fryer we thought a total cook time of 10 minutes was just right!
The lemon juice used in the oil-free version gives the radishes a subtle sweetness. I like to add a squeeze of fresh lemon just before serving for an extra punch of acidity, but that's totally up to you!
As written, this recipe makes a fairly small amount, perfect as a light side or snack for one or two people. To scale it up, allow at least one bunch of radishes per person, or 5 to 6 ounces. Of course, this will depend on everyone's appetites and the other foods being served.
If possible, try not to overcrowd the radishes inside the air fryer basket, and keep them in a single layer.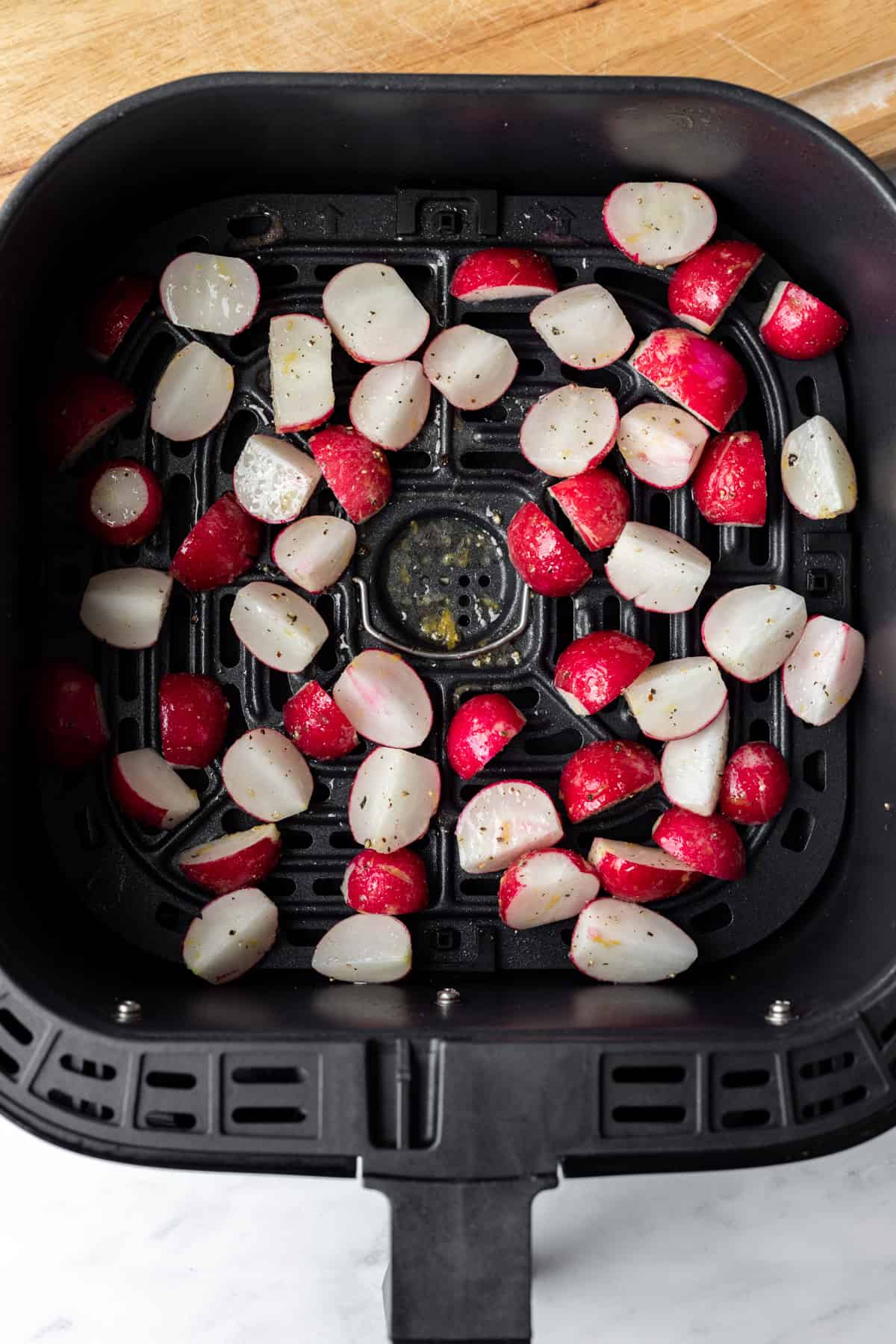 Serving Suggestions
As mentioned above, roasted radishes are great as a side dish or snack, but they're also a nice addition to salads.
Garnish with an extra squeeze of lemon juice and sprinkle with fresh parsley for a classic flavor combination. Or skip the lemon and parsley, and pair the radishes with a healthy vegan sauce like: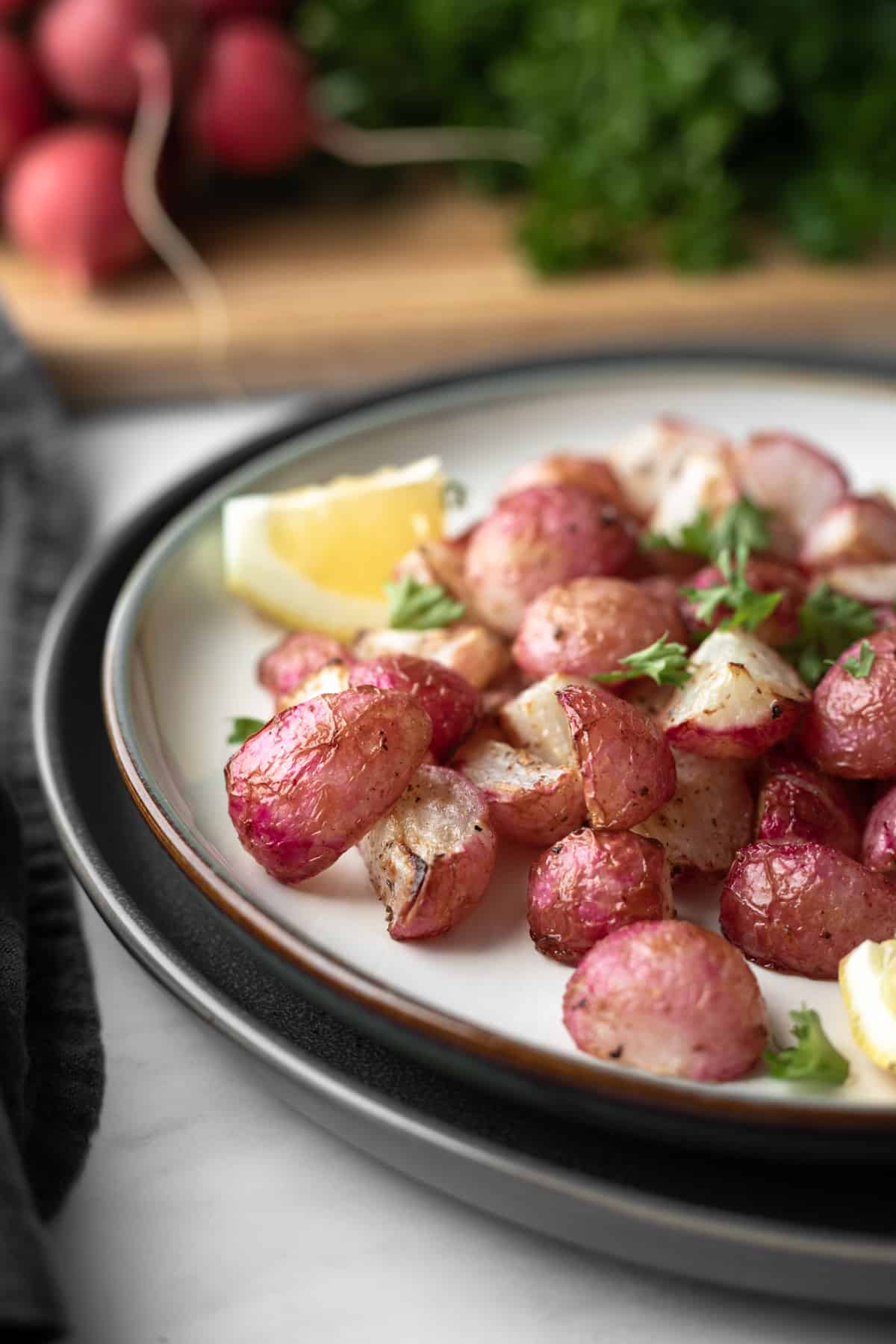 I hope you enjoy snacking on these air fried radishes as much as we do! If you try the recipe be sure to leave a comment below, and share your favorite seasonings and pairings.
You might also like:
Vegan Parmesan Roasted Broccoli
Savory Vegan Mashed Sweet Potatoes
Instant Pot Acorn Squash
Asparagus Salad With Lemon Dressing
Roasted Brussels Sprouts With Balsamic Reduction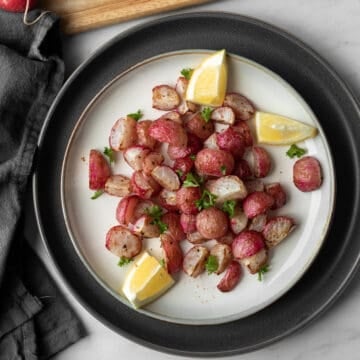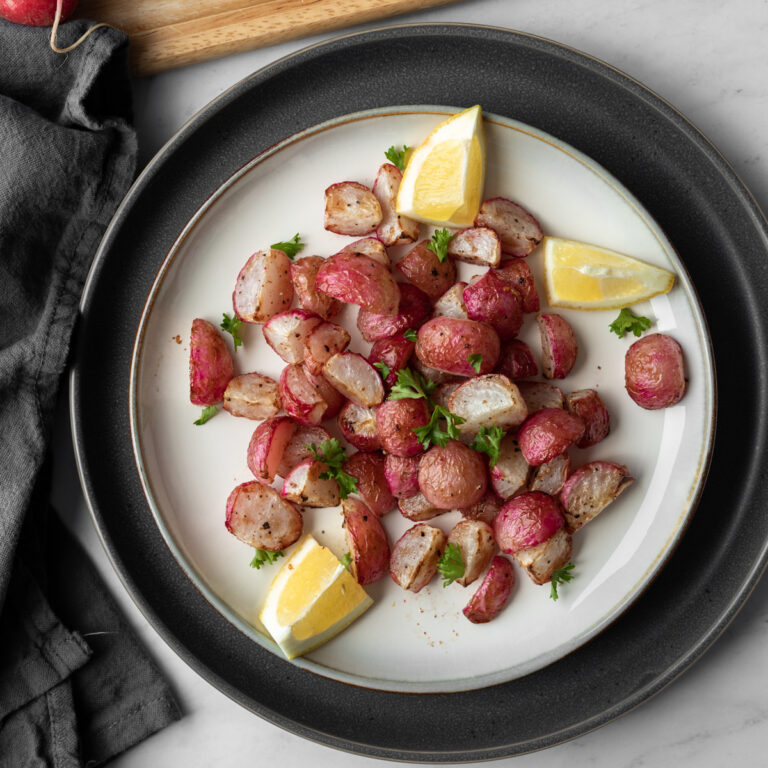 Air Fryer Radishes
Tender, mellow, and lightly sweet, these air fryer radishes are an easy side dish and a healthy snack. Ready in 25 minutes; vegan, gluten-free, with an oil-free option.
Ingredients
12

ounces

radishes (about 2 bunches), ends trimmed, quartered (or halved if small)

2

teaspoons

oil, optional -

Omit for oil-free, and use 1 tablespoon lemon juice.

⅛

teaspoon

garlic powder

rounded ¼

teaspoon

fine sea salt

¼

teaspoon

freshly cracked black pepper

½

teaspoon

lemon zest, optional

2

tablespoons

chopped fresh parsley, optional
Instructions
Preheat the air fryer to 380 degrees F (193 C). In a mixing bowl toss the radishes with the oil (or lemon juice for oil-free).

Sprinkle with garlic powder, salt, pepper, and lemon zest, if using, and toss to coat.

Transfer the radishes to the air fryer basket (if using lemon juice be sure to leave it in the bowl). Cook for 10 to 12 minutes, shaking the basket after 6 minutes. Air fryers can vary, so check the radishes after 8 or 9 minutes. For crisp-tender radishes reduce by a minute or two, or cook longer for soft, tender radishes.

Serve hot with a squeeze of lemon, fresh parsley, or your favorite dipping sauce.
Notes
Oven Roasting Instructions
No air fryer? No problem.
Preheat the oven to 420 degrees F, and line a baking sheet with parchment paper.
Arrange the seasoned radishes in a single layer, cut-side down. Bake for 15 to 20 minutes or until they are as tender as you like. It's a good idea to check on them at the 10 minute mark, flipping them if desired.
Storage and Re-heating
Roasted radishes are best right after cooking, but we even love them after they've cooled to room temperature. If you have leftovers, store in an air-tight container in the fridge and reheat in the microwave or air fryer.
Estimated Nutrition (per serving)
Calories:
44
kcal
Carbohydrates:
5
g
Protein:
1
g
Fat:
2
g
Fiber:
3
g
Sugar:
2
g
Nutrition information is an estimate and will vary depending on the exact amounts and specific products and ingredients used. We calculate this information using the online calculator cronometer.com. For the most accurate nutrition information we recommend calculating it yourself to reflect the specific ingredients used in your dish.
Did you try the recipe?
Comment below to let us know!