These Vegan Chorizo Cabbage Rolls are a nutritious vegan meal that satisfies like decadent comfort food. Ready in under an hour, these cabbage rolls are oil-free and filled with plant-based chorizo, onion, greens, brown rice, and topped with loads of salsa plus an irresistible 5-minute cashew cheese!
Let's start with an introduction.... Have you heard of No Evil Foods? They make plant meats and are based right here in Asheville, NC.
Their products taste AMAZING and are made from simple ingredients. All of the products are oil-free, too, making them appropriate for folks who avoid added oils for health reasons. Their plant-based chorizo was the inspiration for these cabbage rolls.
I'm telling you, the spice blend in their chorizo is perfection! No Evil Foods has greatly expanded their distribution footprint over the last few years. So if you haven't come across their products yet, be sure to check with your favorite store and ask them to step up their plant meat game.
Here's a link to NoEvilFoods' site if you want to learn more. <--- You can also order directly from their site.
Update: inspired by their plant-based chorizo, I created my own oil-free vegan chorizo recipe.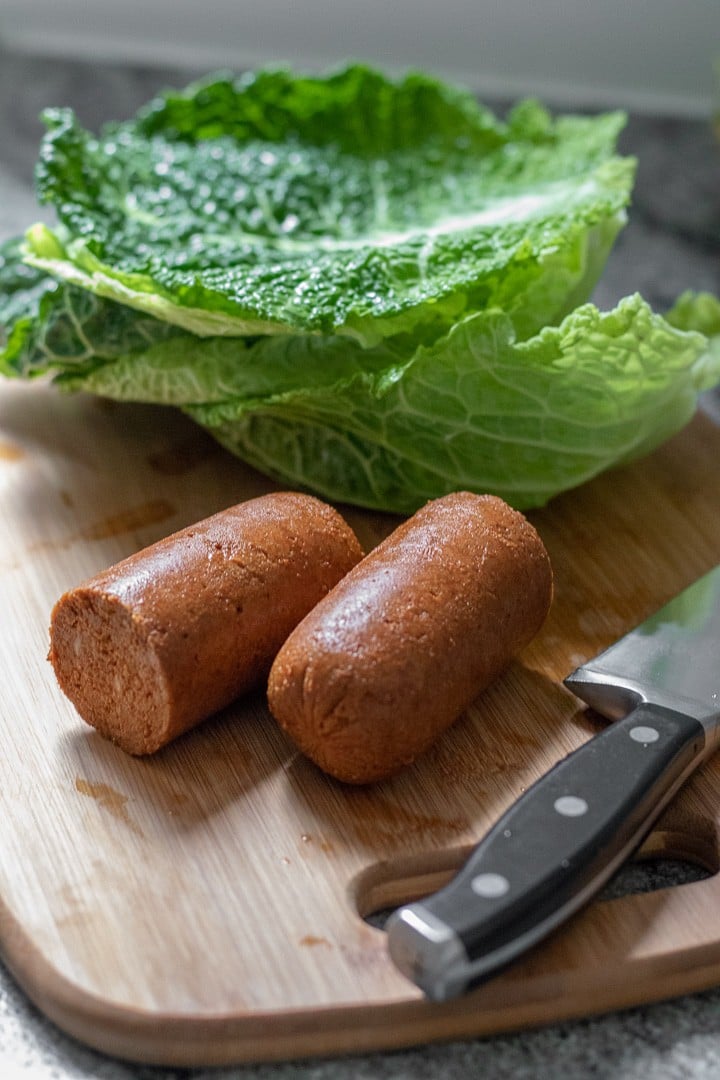 Ingredients
NEF's chorizo makes this dish a breeze to pull together because all the spicing is done for you! BUT just in case you don't have any when the mood strikes, I'm also posting a sister recipe today for Easy Tofu Chorizo that you can use instead.
The basic elements of this dish are:
Cabbage leaves - you can use Savoy or regular green cabbage (Savoy is a bit softer and easier to work with).
Salsa
Onion
Vegan Chorizo
Greens - I've made this dish with both kale and rainbow chard; use whatever you have.
Cooked rice - this element obviously takes a little planning ahead. Options: omit it for a low-carb meal, or for a quick alternative, packages of pre-cooked rice can be found in most stores.
5-Minute Mexican Cashew Cheese! (more on this below)
That's it! And hey, if you consume oil and don't feel like making your own cheese, you can simplify this even further by topping your dish with store-bought vegan shreds.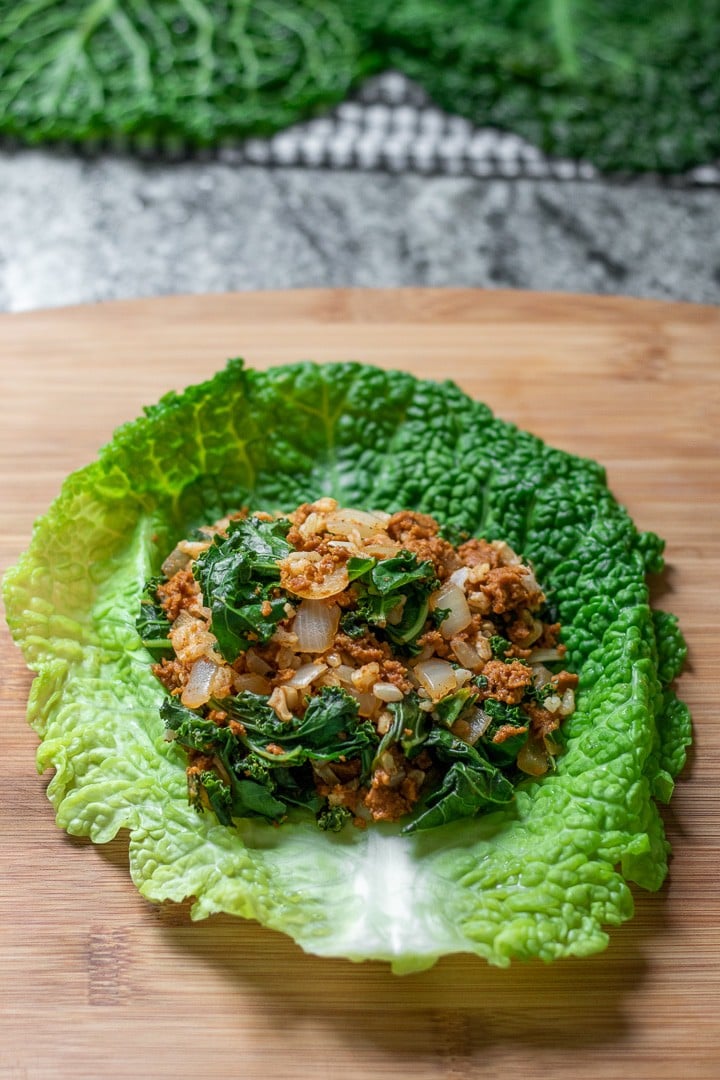 How to Make Vegan Cabbage Rolls
Prep the cabbage leaves by blanching them in boiling water for 2 minutes, just to soften them slightly. Set aside.
Sauté the onion, chorizo and kale. Add the cooked rice.
Fill and roll your cabbage leaves and place them on a layer of salsa in a baking dish.
Top with more salsa.
Blend the cheese ingredients in a high speed blender until smooth. Pour into a small sauce pan and cook over medium-high heat until bubbly and thickened (just a couple of minutes).
Top the cabbage rolls with cheese, and bake for 30 minutes in a 375 degree oven.
Garnish with cilantro and avocado. Enjoy!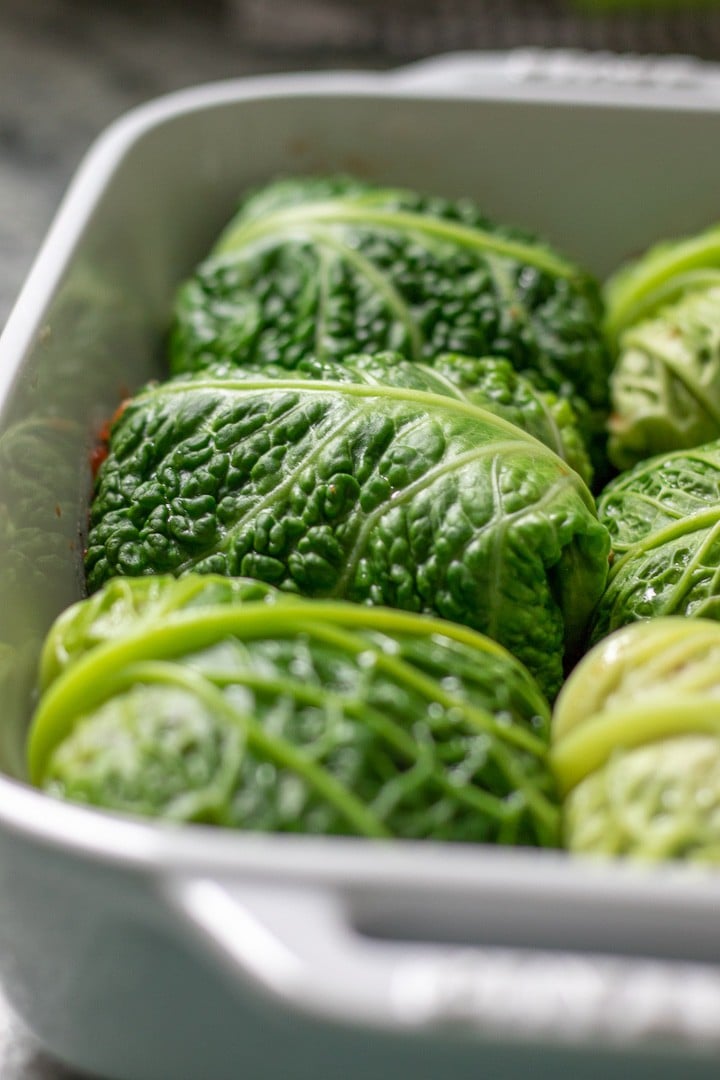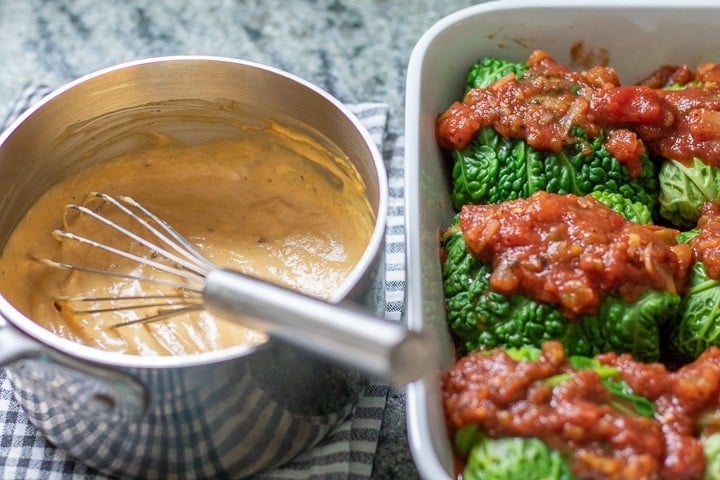 Let's chat about this Mexican Cashew Cheese
If you look at my instagram page or my recent posts you might notice a bit of a cheese obsession forming. I feel that this obsession is completely justified for oh so many reasons, a few of which are:
homemade cashew cheese is actually healthy and surprisingly low in calories (yet doesn't taste like it).
it takes just minutes to prepare, which basically means, creamy, salty, instant gratification!
and you're going to feel so accomplished and confident when you serve this cheese to family and friends. And I want to help you achieve that feeling!
I've said it before and I'll say it again, go ahead and get some tapioca starch, and hop on this melty vegan cheese train because we've got a lot of cool destinations ahead.
I'm calling this "5-Minute Mexican Cashew Cheese" but it probably takes more like eight minutes to prepare. Somehow that just doesn't have the same ring to it.
Ingredients Needed for the Cheese
raw cashews
tapioca starch
lemon juice
garlic powder
chipotle flakes
smoked paprika
nutritional yeast
cumin and salt
Blend until smooth. Then, all you have to do is cook it in a small sauce pan for a few minutes until it thickens, and it's ready to use! Dip chips in it or dollop it onto recipes like these cabbage rolls. Recently I've been adding salsa to the mixture for more of a queso vibe and loving every minute of it.
I recognize there are a few ingredients in that list that some people might not keep in their pantry. But that's one of the great things about this basic cheese recipe.... all of this stuff is shelf-stable (well, except the lemon; but you can even sub vinegar, which is shelf-stable).
Once you buy some smoked paprika, tapioca starch and chipotle flakes, you'll be SET! On a whim you'll be able to whip up this smoky cashew cheese over and over and over. Doesn't that sound amazing? Can you feel the possibilities?
Burritos, tacos, pizza, tofu scramble, quesadillas, sandwiches, burgers, steamed veggies.....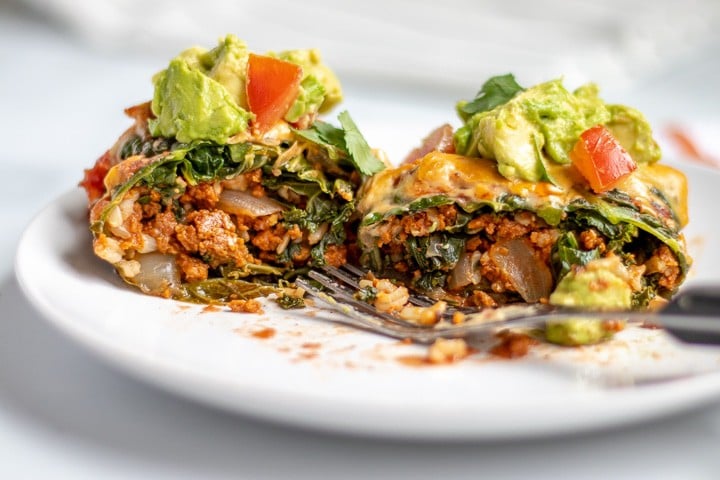 Let's get to it! If you've read all of this, you can no doubt tell how much I enjoy this recipe. So I hope you give it a try and enjoy it, too! And be sure to snap a pic and tag @myquietkitchen on instagram to show off your healthy Vegan Chorizo Cabbage Rolls!
You might also like:
Baked Vegan Taquitos
Vegan Taco Meat With Soy Curls
Award-Winning Vegan Chili
45-Minute Lentil Chili
Refried Black Bean and Tempeh Tacos
Smoky White Bean Tacos
Update: this yummy cheese sauce now has its own post ---> Easy Oil-Free Vegan Queso
And check out this No-Cook Vegan Cheese Sauce!
📖 Recipe
Chorizo-Stuffed Vegan Cabbage Rolls
Flavor-packed comfort food that's secretly healthy! These vegan chorizo cabbage rolls are filled with kale, onion, and brown rice, and topped with Mexican cashew cheese and plenty of salsa!
Ingredients
For the Cabbage Rolls:
8

Savoy cabbage leaves (can substitute green cabbage)

1

large

onion, chopped

1

package (10 oz.)

No Evil Foods Zapatista or other vegan chorizo

-

Or substitute tofu chorizo; see Notes

1

small

bunch Swiss chard or kale, chopped

sea salt

pepper

1 ½

cups

cooked rice

16

ounce

container of chunky salsa
For the 5-Minute Mexican cheese:
1

cup

water

⅓

cup

raw cashews

2

Tbsp

tapioca, arrowroot, or corn starch

2

Tbsp

nutritional yeast

1

Tbsp

lemon juice

½

tsp

dried chipotle flakes

¼

tsp

smoked paprika

⅛

tsp

garlic powder

⅛

tsp

cumin

1

tsp

fine sea salt
Instructions
Preheat oven to 375 degrees.

Wash the cabbage leaves and fill a soup pot about ⅓ full with water. Bring water to a boil and submerge the cabbage leaves. Cook for about 2 minutes. Carefully remove with tongs and place the leaves on a tea towel to dry.

Pulse the chorizo in a food processor until ground, or finely chop it.

Preheat a large sauté pan over medium heat. Cook the onion until translucent, about 5-7 minutes. Add the chorizo plus a splash of water (to prevent sticking), and cook for 2 minutes. Add more water as necessary. Add the kale, a pinch of salt and pepper, and cook until the kale is wilted.

Stir in the cooked rice and cook for another minute. Remove from heat.

Spread salsa in the bottom of a baking dish (my 8x10" dish holds six rolls, but you can also use a 9x13" casserole dish; you'll have enough filling to make 7 or 8 rolls).

Place a cabbage leaf on your cutting board and fill the center with the chorizo mixture. Fold in the sides so that they overlap. Then, fold in the bottom and top. Place folded side down in the baking dish. Repeat until you've used up the filling or your baking dish is full. Spoon about half of the remaining salsa onto the cabbage rolls. Set aside.
Make the cheese:
Combine the cheese ingredients in a high speed blender and blend until smooth. Pour into a small sauce pan and cook over medium-high heat, whisking constantly, until thickened. This happens quickly, so don't walk away! As soon as it thickens, remove from heat and spoon cheese onto the cabbage rolls.
Bake:
Bake for 25 to 30 minutes or until the cheese has browned slightly. Top with cilantro and avocado and enjoy!
Notes
If you prefer not to use seitan, try this recipe for Easy Tofu Chorizo!
Update: No Evil Foods has gone through a major expansion since this was originally posted, so check their website for location info; you can also order directly from their site if you live in the continental US.
Leftover cabbage rolls will keep in the refrigerator for up to 4 days. Reheating in the microwave is the best/easiest option, as reheating in the oven may dry out the cheese and filling.
Estimated Nutrition (per serving)
Calories:
320
kcal
Carbohydrates:
43
g
Protein:
27
g
Fat:
7
g
Saturated Fat:
1
g
Cholesterol:
0
mg
Sodium:
1220
mg
Fiber:
7
g
Sugar:
8
g
Vitamin A:
16900
IU
Vitamin C:
80
mg
Calcium:
140
mg
Iron:
2.7
mg
Nutrition information is an estimate and will vary depending on the exact amounts and specific products and ingredients used. We calculate this information using the online calculator cronometer.com.
Tried the recipe?
I love hearing from you! Share your feedback below.