A quick and easy salad dressing for yogurt lovers! This Vegan Yogurt-Balsamic Dressing combines cashew yogurt and aged balsamic vinegar with a touch of dijon, maple, garlic, salt, and pepper for a creamy sauce that can dress salads, serve as a tangy dip for veggies, and be drizzled on steamed veggies and grain bowls. Oil-free and gluten-free.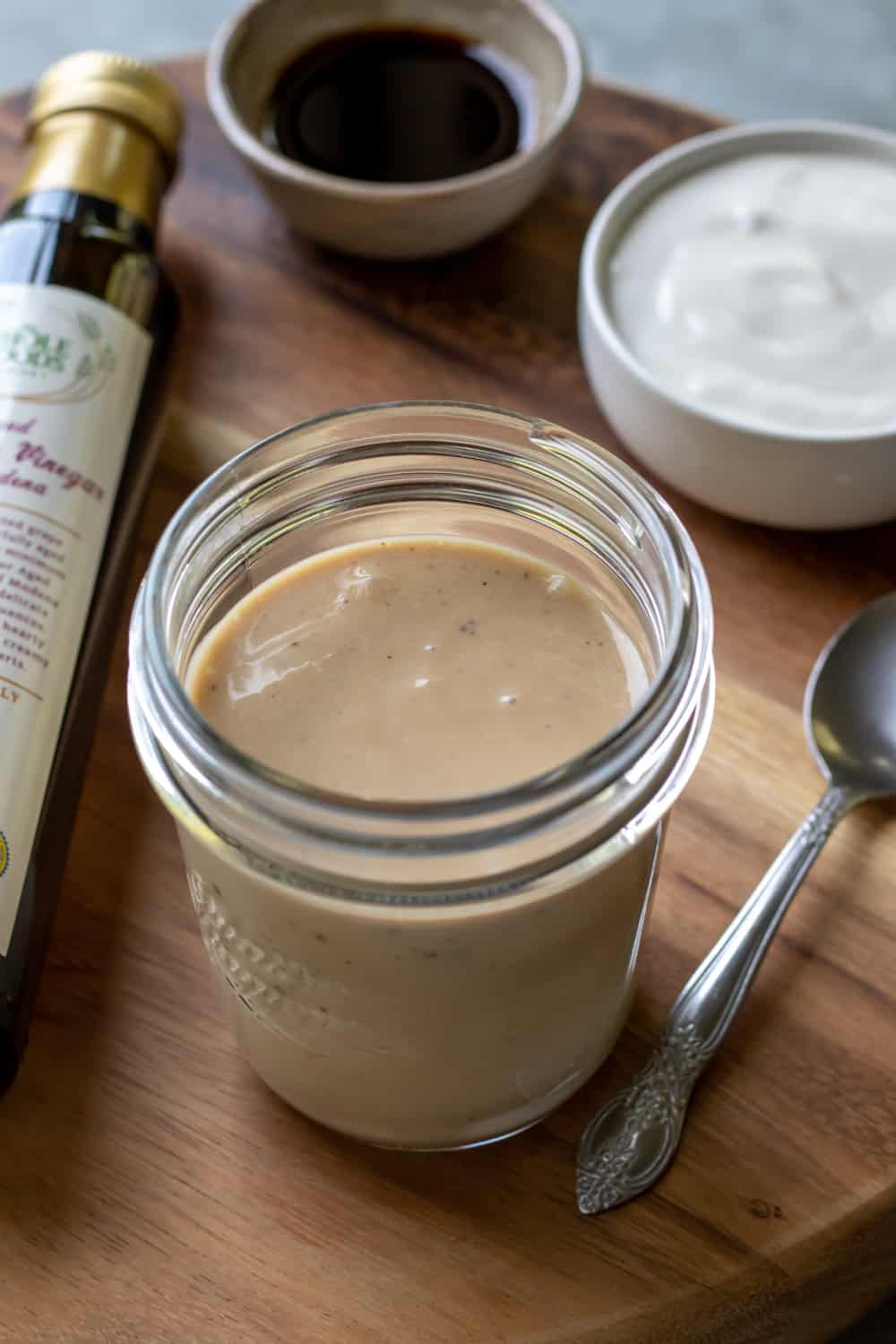 Inspiration for this dressing came when I had some plain Forager cashew yogurt leftover after making my Caramelized Shallot Dip.
If you haven't tried Forager's plain yogurt yet, and you happen to see it in a store, snap it up! I know it's not available everywhere, but I think their footprint has expanded quite a bit in recent years. And as far as non-dairy yogurts go, Forager is definitely my favorite (since WholeSoy & Co. went away).
Yogurt is something a lot of people miss when they first ditch dairy, but between the convenience of Forager and the ease and deliciousness of homemade cashew yogurt, you never have to miss yogurt again!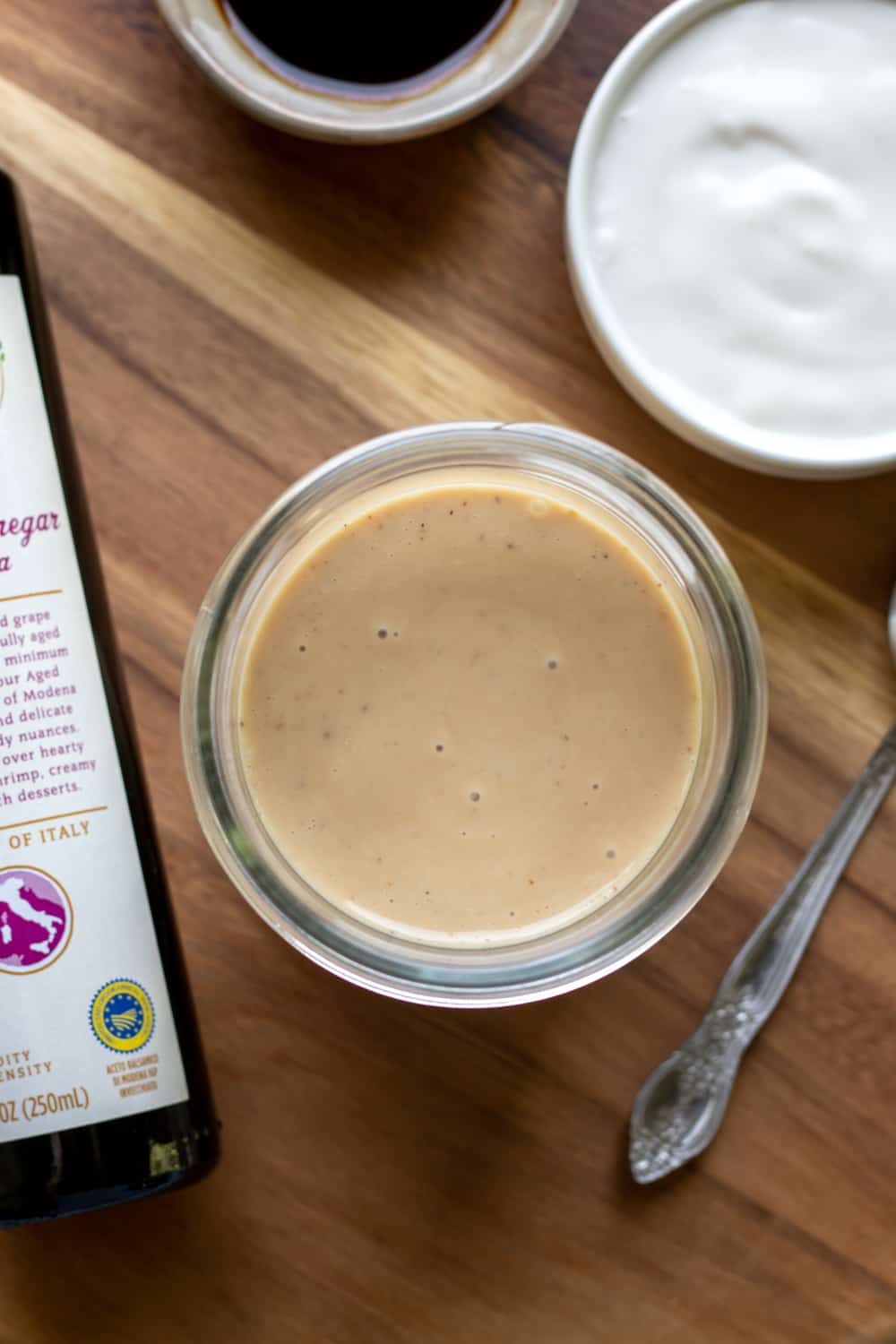 If you have some unsweetened, plain store-bought yogurt on hand, obviously that makes whipping up this dressing a total breeze! Seriously, we're talking one bowl and two minutes. Homemade salad dressing really doesn't get any easier.
But if you can't get Forager's plain yogurt where you live, luckily you can make your own unsweetened cashew yogurt at home!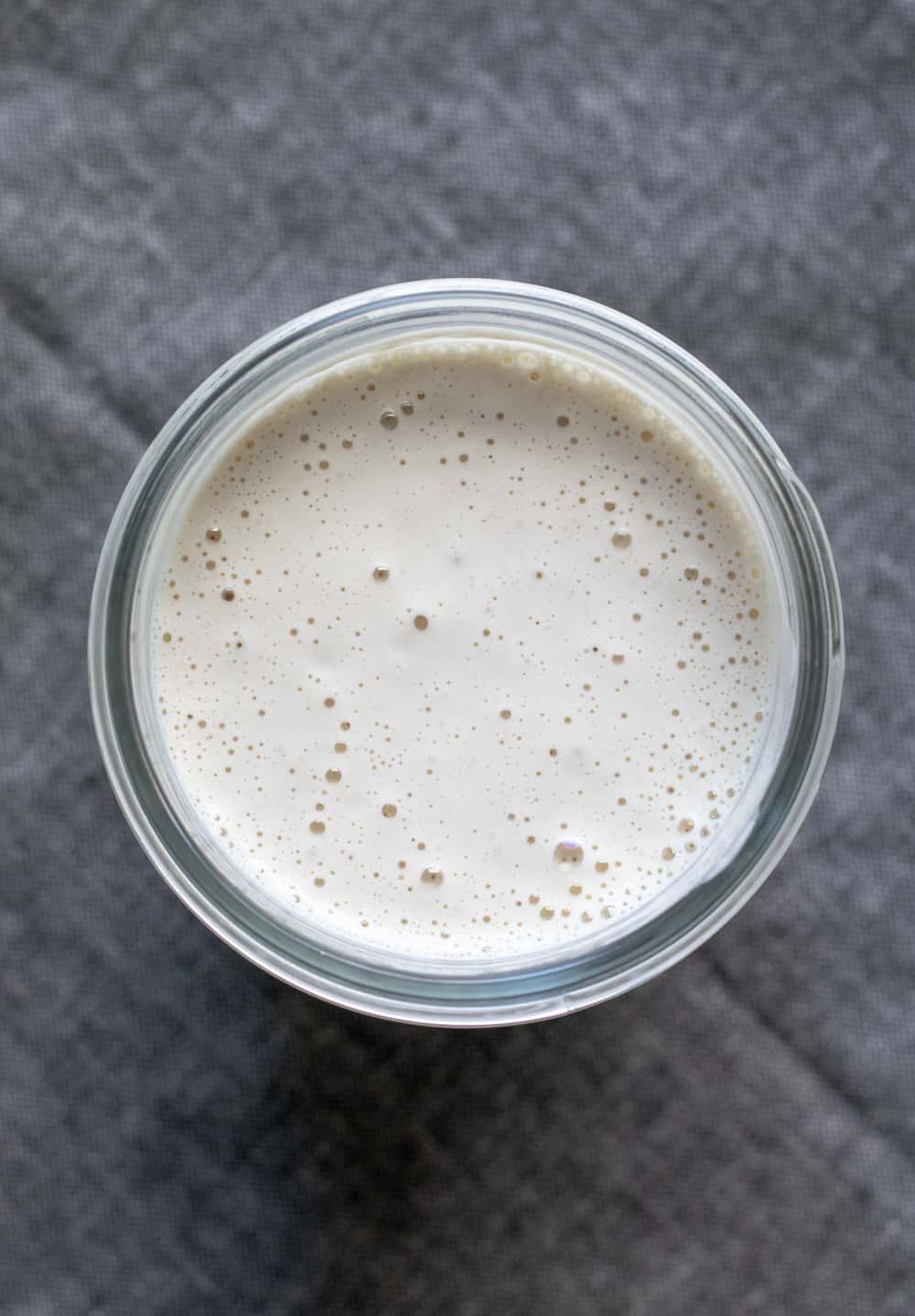 Yogurt Options
UPDATE: See this new Instant Pot Cashew Yogurt Recipe or this Almond Milk Yogurt Recipe for everything you need to know about making vegan yogurt at home.
This quick yogurt recipe is inspired by homemade cultured nut cheeses I've made over the years. For that yogurty-y flavor, adding a small amount of probiotic powder to a thin cashew cream works like a charm!
Even without any added sweetener, this yogurt has a mild natural sweetness from the cashews and lemon juice that balances the tangy flavor really well. If store-bought plain yogurt is a bit too tart for you, I think you'll love this cashew yogurt.
In a high speed blender combine 1 cup filtered water and 1 ½ cups raw cashews. Blend until completely smooth, about 1 minute. *See notes below regarding blenders and whether soaking cashews is necessary for a smooth consistency.
Add 2 tablespoons of fresh lemon juice and a tiny pinch of salt, and blend for another 30 seconds or so. The mixture will be warm.
Open two capsules of vegan-friendly probiotics (I use Jarrow brand); pour the powder into the blender, and discard the capsules. Pulse the blender for just 1 to 2 seconds to distribute the powder throughout the cashew mixture.
Pour the yogurt into a clean bowl or container, cover with a tea towel, and let sit at room temperature overnight.
The next day your cashew yogurt should be slightly tangy. You can eat it right away or refrigerate until cold.
NOTE: The yogurt should smell tangy, like yogurt, but not sour. If it develops a sour or "off" aroma something has gone wrong (ewww, bad bacteria), and it should be discarded. If you feel uneasy about culturing the yogurt at room temperature you can refrigerate it overnight instead of leaving it out.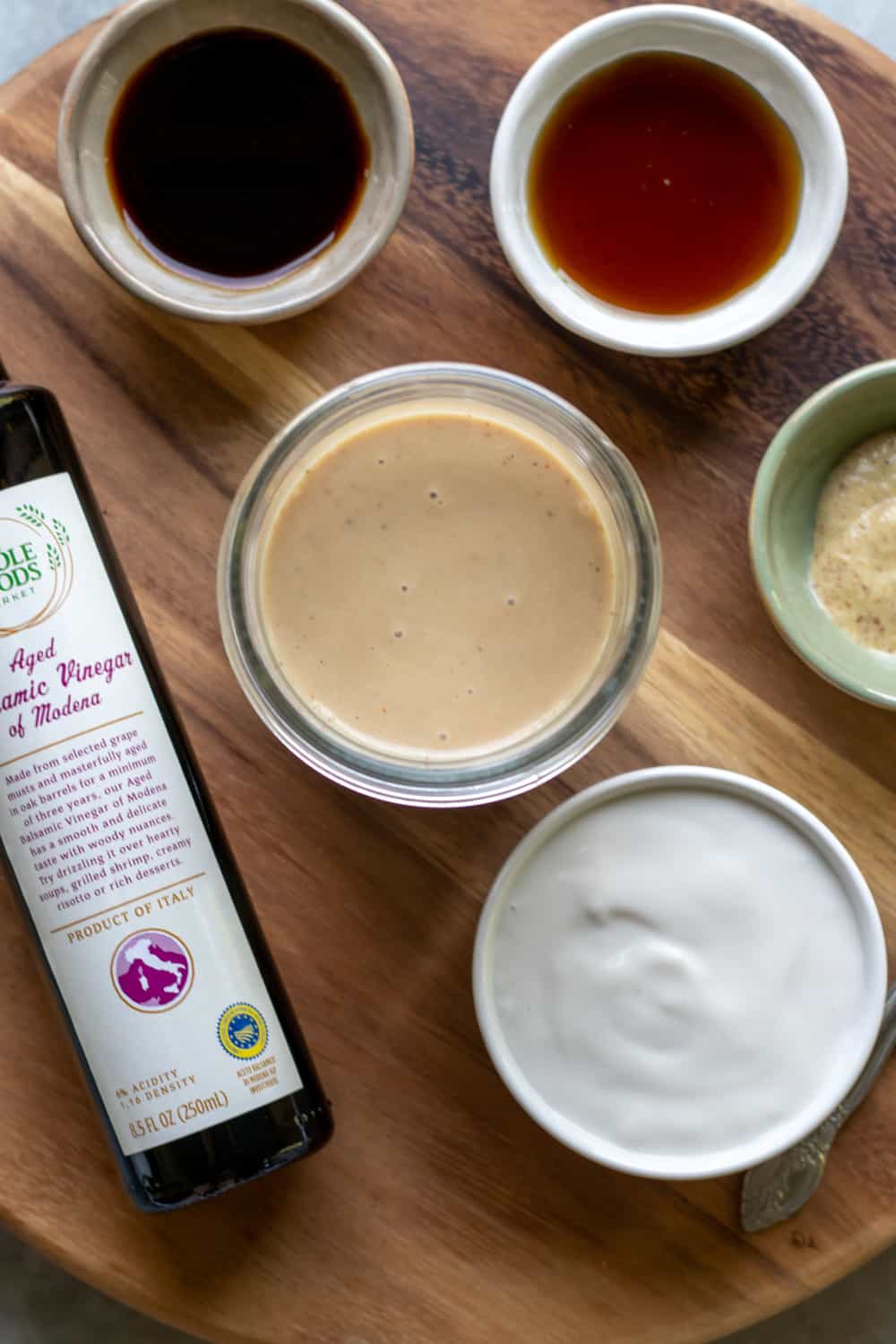 A note about soaking cashews
I almost never soak cashews anymore. If you're using a powerful blender like a Vitamix or Blendtec, soaking is 100% unnecessary for achieving a smooth consistency.
Unfortunately, I don't have experience with other brands, so I can't say for sure whether they're powerful enough to achieve a completely smooth consistency with recipes that call for raw cashews.
But I can tell you that my 10-year-old Vitamix is still going strong, and as long as the ingredients I'm asking it to blend include enough liquid, and the blender jar isn't TOO full, it has the power to make perfectly smooth sauces, yogurts, fillings, soups, etc. Zero soaking required!
If you want to soak nuts for the health benefits of making nutrients more bioavailable and improving digestibility, that's a different story. But if you're mainly concerned with speed and convenience and are on the fence about whether or not to purchase a high speed blender, I'd say it's absolutely worth the investment.
In real life we don't always remember to soak nuts in advance or know when we'll be in the mood for a quick batch of oil-free queso! And a great blender makes it a non-issue. Now, back to the recipe...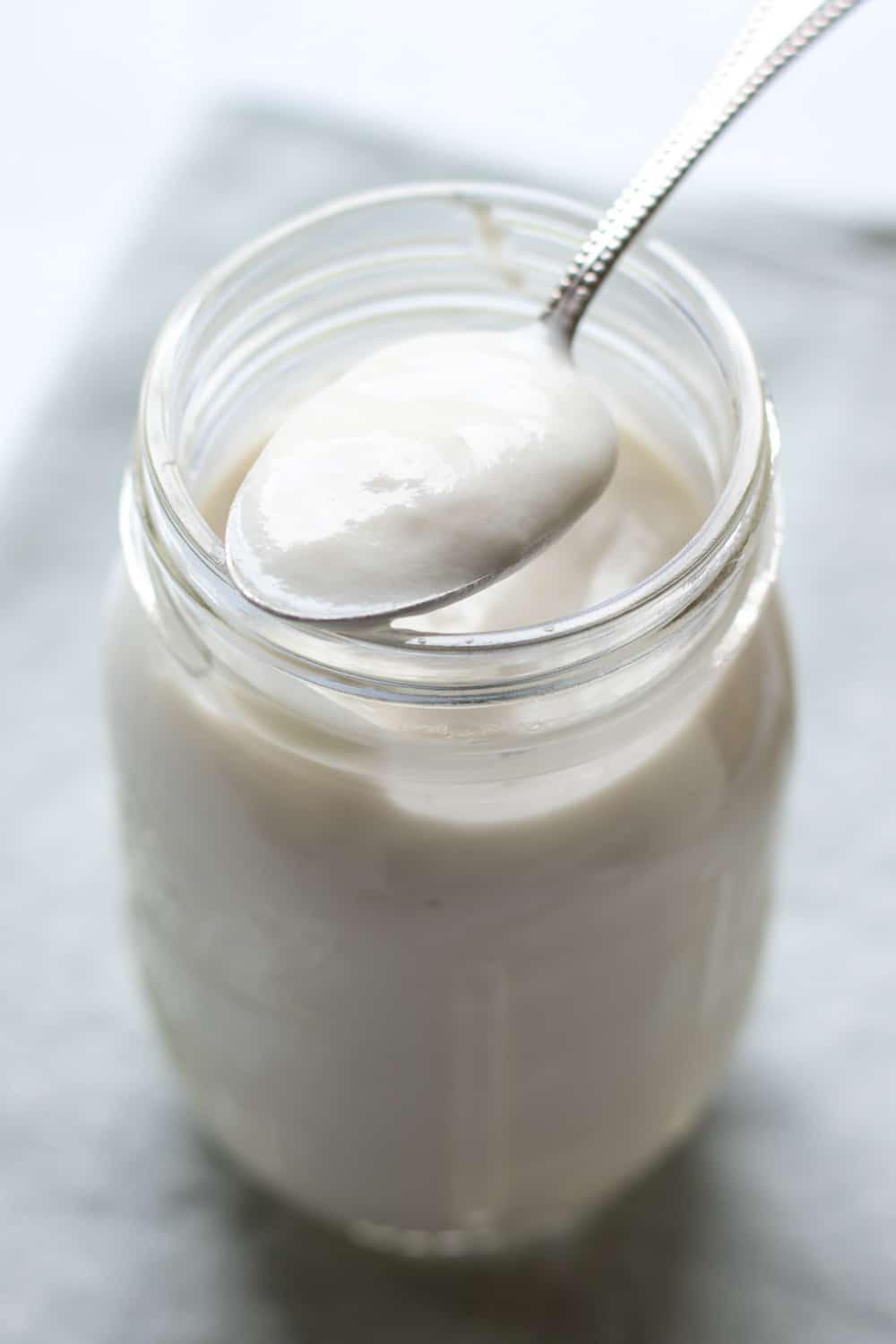 Choosing a Balsamic Vinegar
For the dressing, choose a good quality balsamic vinegar, but there's no need to use the super special stuff. Check the ingredients and be sure there's no caramel color. "Traditional balsamic vinegar of Modena" is a good choice. The ingredients should be grape must and vinegar.
Vinegars that have aged for at least a few years will be thicker and sweeter with more complex flavor. With this type of vinegar you probably won't need the maple syrup listed in the recipe, unless you want a sweet dressing. I would try it without the maple syrup first, and taste as you go.
Here is an in-depth description of balsamic vinegars if you'd like to learn more.
I hope you enjoy this simple and flavorful Vegan Yogurt-Balsamic Dressing. I would love to hear from you if you give it a try! You can rate the recipe and leave a comment below to let us all know what delicious foods you paired it with and how it turned out.
You might also like:
📖 Recipe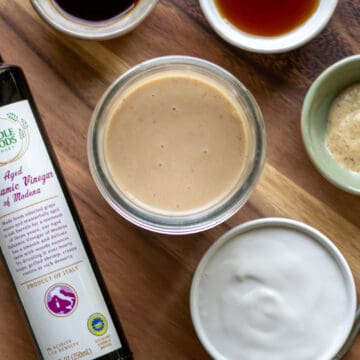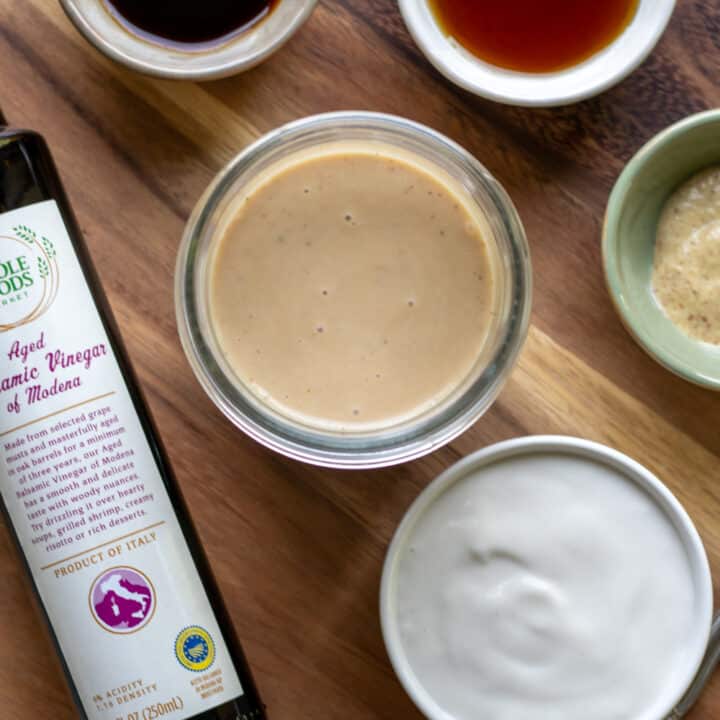 Creamy Yogurt-Balsamic Dressing
A creamy, tangy, dairy-free dressing for yogurt lovers! Vegan Yogurt-Balsamic Dressing can be made with store-bought vegan yogurt or homemade cashew yogurt (recipe included). Oil-free and gluten-free.
Makes about 1 cup.
Ingredients
3

Tbsp

balsamic vinegar

2

tsp

dijon or stoneground mustard

1

Tbsp

maple syrup, optional

-

*if using an aged, sweeter balsamic you may not need the maple syrup

¼

tsp

fine sea salt

⅛

tsp

garlic powder

black pepper
Instructions
Combine all ingredients in a bowl, starting with the lesser amount of yogurt. Whisk until combined. The type of vinegar greatly affects the flavor, so taste and adjust amount of yogurt and sweetness as desired. Refrigerate until ready to serve.
Notes
The dressing tastes best after chilling for an hour or two.
Yogurt-Balsamic Dressing is best when consumed within 3 days.
Estimated Nutrition (per serving)
Serving:
3
Tbsp
Calories:
30
kcal
Carbohydrates:
3
g
Protein:
1
g
Fat:
1
g
Cholesterol:
0
mg
Sodium:
140
mg
Sugar:
1
g
Nutrition information is an estimate and will vary depending on the exact amounts and specific products and ingredients used. We calculate this information using the online calculator cronometer.com.
Tried the recipe?
I love hearing from you! Share your feedback below.