Vegan pineapple stuffing is a unique, easy, and sweet holiday side dish (or dessert) that will have everyone asking for seconds! It's like pineapple bread pudding meets French toast. With sweet and tart pineapple, soft chunks of bread, and a hint of savory from JUST Egg and vegan butter. Just 12 simple ingredients and no special equipment required!
Pineapple stuffing is often served on Christmas and Easter, but it's also fantastic for brunch or dessert any time of year.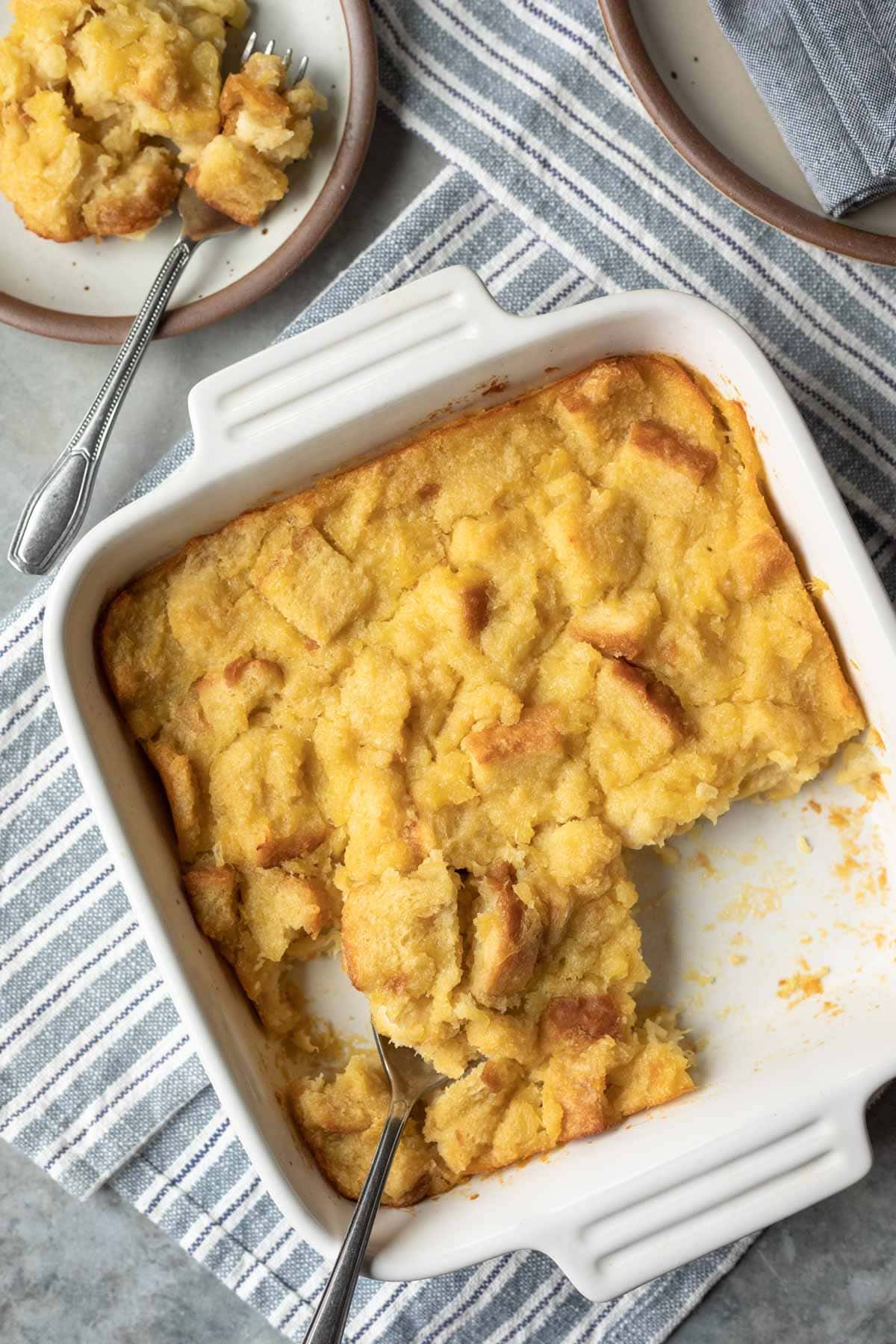 What is pineapple stuffing?
Just when you think holiday side dishes can't get any weirder than strawberry pretzel salad and corn pudding, in comes pineapple stuffing.
I recently stumbled across this unique dish, and as soon as I read the description and ingredients I couldn't wait to make a vegan version!
In a lot of ways it reminds me of corn pudding, but with crushed pineapple and bread instead of corn and cream.
It's fluffy, moist, soft, sweet enough to be dessert, and lightly savory in a way similar to French toast.
I was surprised I'd never heard of pineapple stuffing, so I searched online to see if I could learn more about the origin and the regions where it's most popular. But it was surprisingly difficult to find answers.
Pineapple casserole on the other hand, is very clearly a Southern favorite. It's similar to stuffing, but calls for shredded cheese instead of bread and has a buttery cracker topping. In other words, it just might be the weirdest of the weird!
Oddly enough, since I've lived most of my life in the South, I had never heard of pineapple casserole either. Weird. Anyway, back to stuffing...
Traditionally, pineapple stuffing is served with ham, which makes sense, I suppose, since pineapple is often paired with ham.
Outside of Christmas and Easter, pineapple stuffing may also be served with other types of pork or sausage.
Now that I've tasted this vegan pineapple stuffing, I can see myself enjoying it more often for dessert than as a side dish.
Served slightly warm with a scoop of vanilla oat ice cream sounds like heaven. And for a special occasion brunch or breakfast, it will be a delightful sweet, bready treat alongside tofu quiche or vegan breakfast casserole.
Jump to:
How to Make It Vegan
Similar to my corn pudding recipe, the 2 main ingredients we need to replace in pineapple stuffing to make it vegan are:
Easy enough, right? JUST Egg worked SO well in veganizing my family's corn pudding recipe, so using it again here was a no brainer.
And for the butter, I used Miyoko's cultured European-style butter because the flavor is the best I've come across.
Mr. MQK and I had no idea what to expect the first time I tested the recipe. And we were both pleasantly surprised that this strange-sounding concoction was so delicious!
Ingredients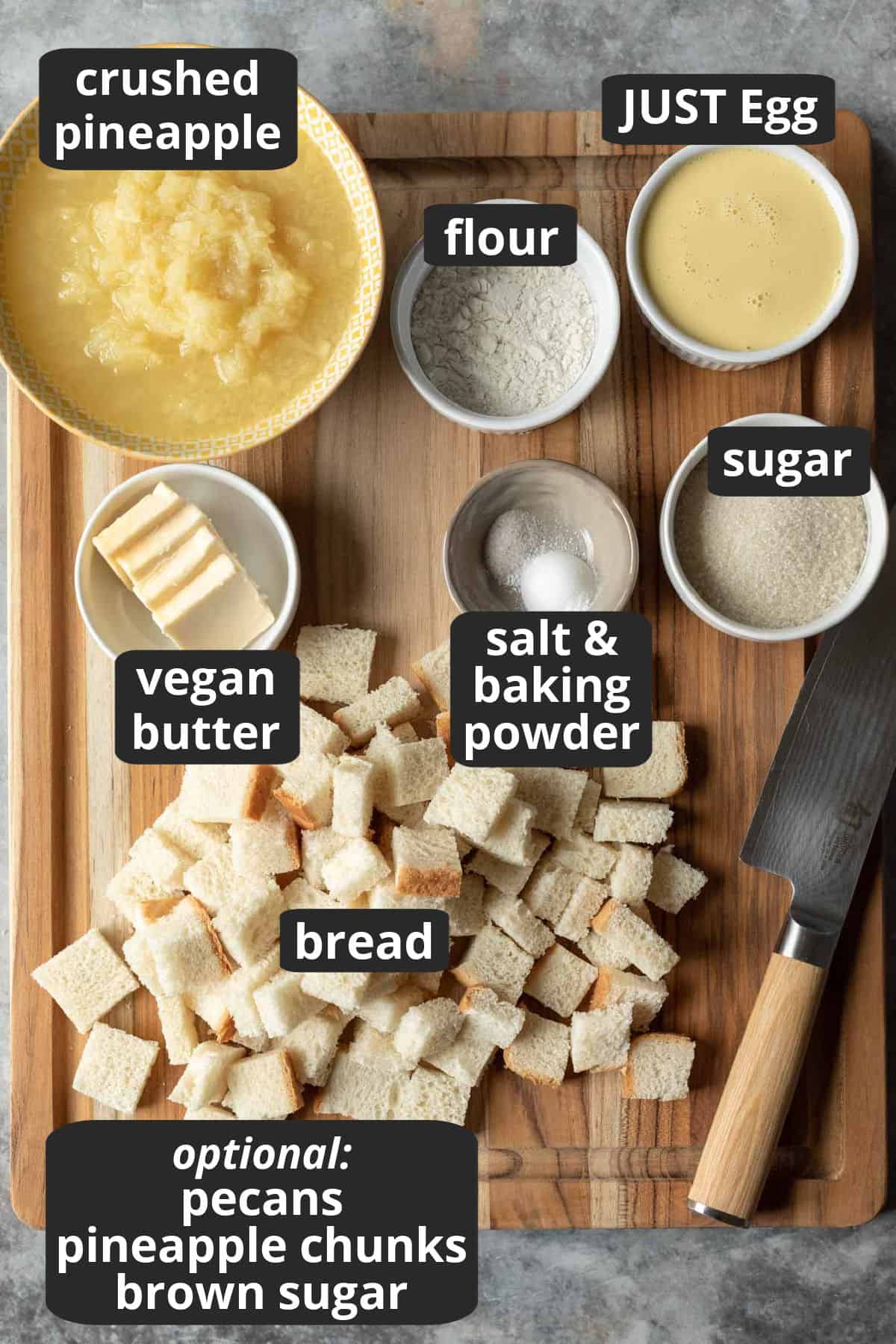 pineapple - you'll need a 20 ounce can of crushed pineapple, juice and all. I also like to add pineapple chunks, about half of a 20 ounce can, drained. The chunks are optional, but I do think the extra bump in pineapple flavor improves the dish.
vegan butter - I used Miyoko's but any brand you have on hand is fine.
JUST Egg - visit the JUST website to locate a retailer near you. You'll need half of a regular 12 ounce bottle. Use the remainder to make a veggie-filled JUST Egg scramble.
sugar - in my first test batch I used all organic cane sugar, but for the next batch I also included light brown sugar. The difference was subtle, but we did prefer the second batch.
bread - I had leftover bread on hand from making vegan mushroom stuffing. A good quality white sandwich bread works well for both recipes. Avoid overly soft varieties, breads with holes like ciabatta, or any type of bread with strong flavors.
flour - a small amount of all-purpose flour binds the stuffing and helps soak up the pineapple juice. Feel free to use a gluten-free flour blend, such as King Arthur 1 to 1.
pecans - optional; include nuts if you like texture and crunch. See a photo of a batch with pecans below.
How to Make Pineapple Stuffing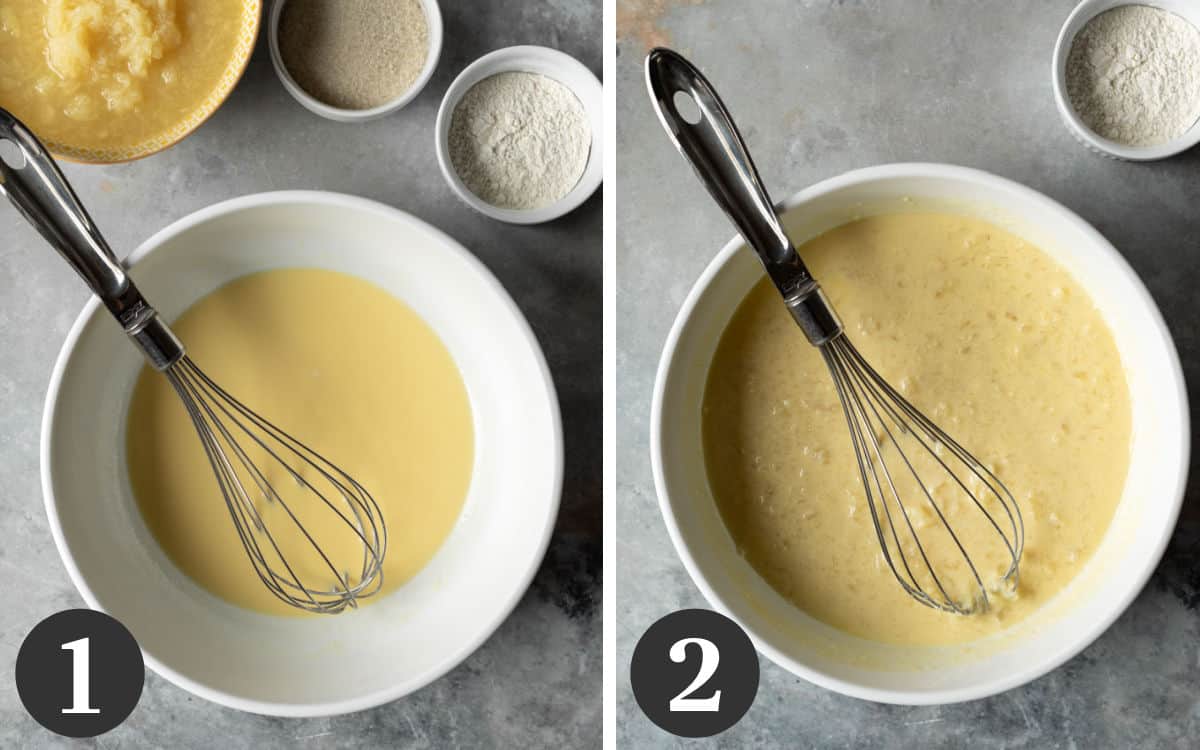 Place the butter in a large mixing bowl. Microwave in 10 to 15 second intervals to soften. Add the JUST Egg and microwave for a few more seconds to remove the chill. Whisk thoroughly.
Whisk in the sugars and vanilla. In a separate bowl whisk the dry ingredients. Add these to the mixing bowl and whisk to combine. Stir in the crushed pineapple.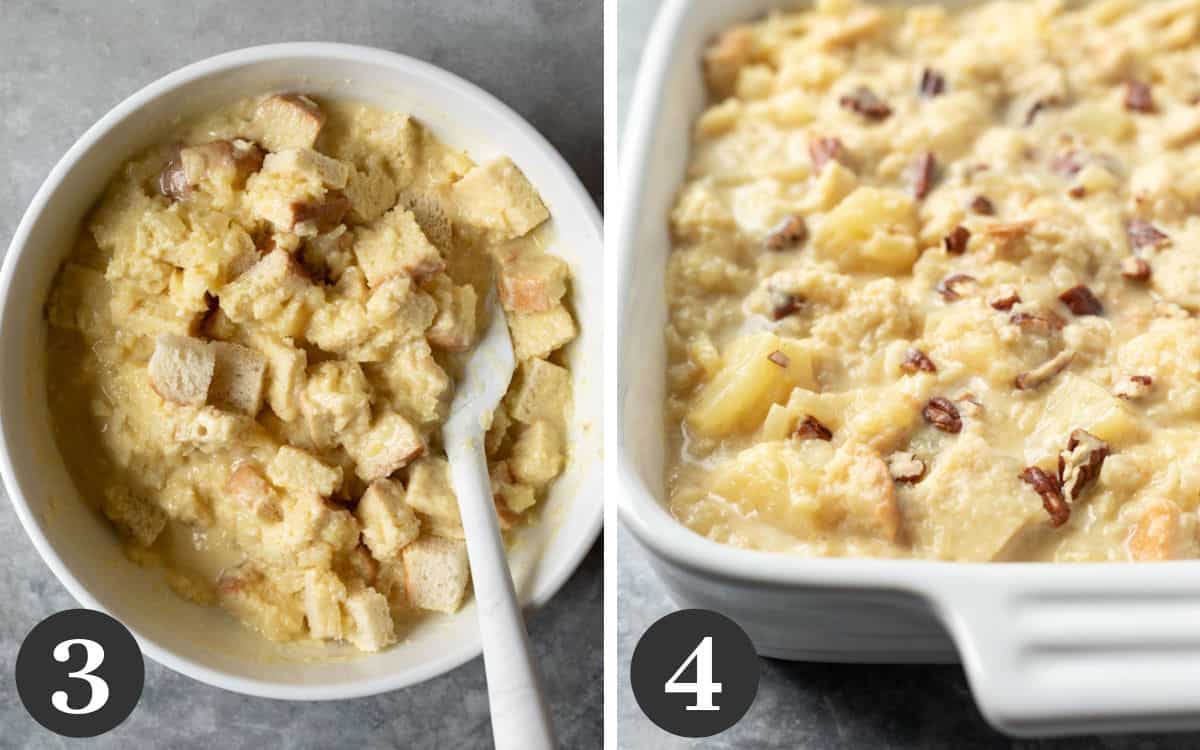 Fold in the cubed bread, pineapple chunks, and pecans, if using.
Transfer to an oiled 9-inch square (2 quart) baking dish. Bake uncovered in a preheated 350° oven for 1 hour.
Let pineapple stuffing cool for 15 minutes before serving.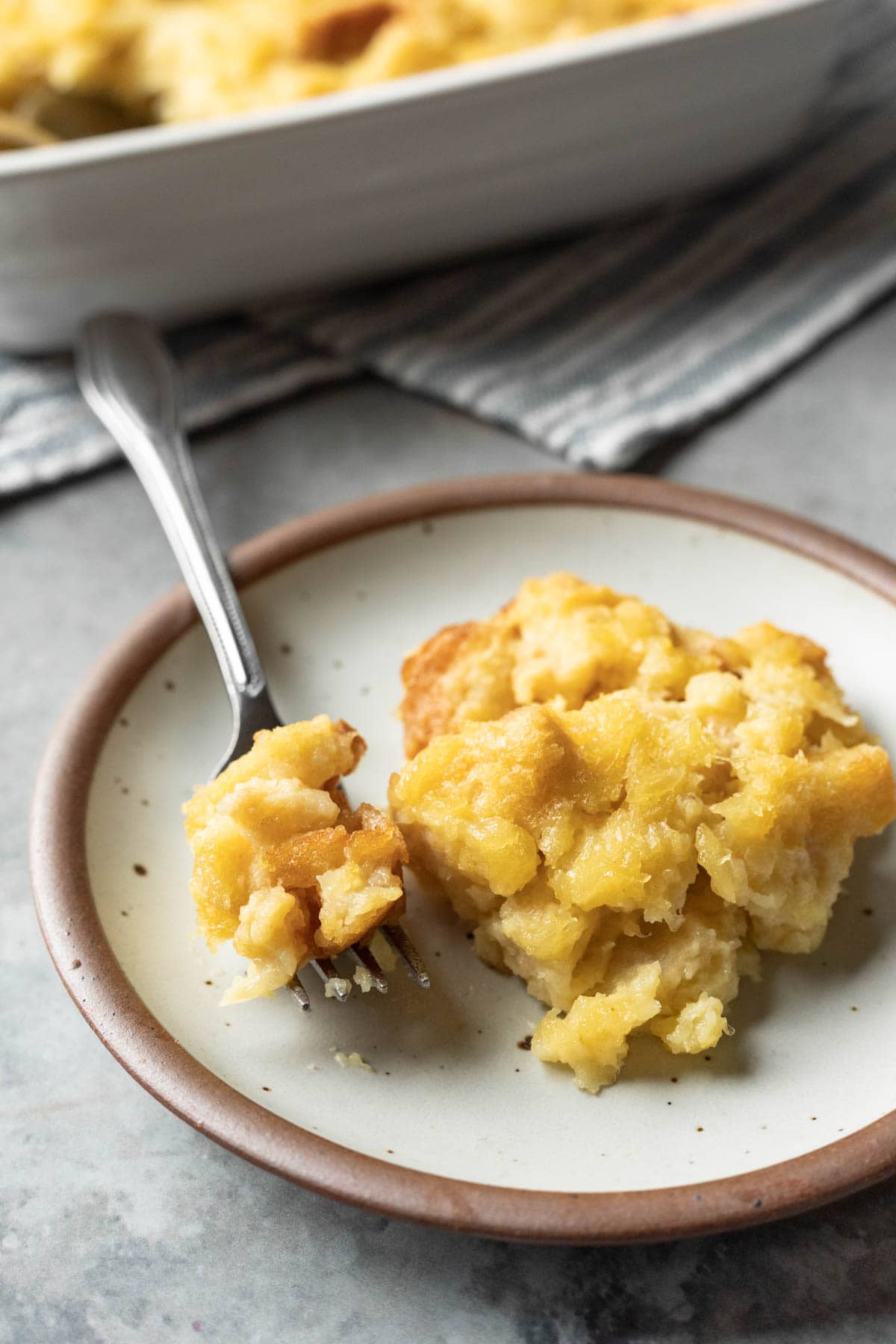 Serving Suggestions
Inspired by the mains traditionally served with pineapple stuffing, this holiday season why not try a seitan ham? Here's a great vegan ham recipe by Rosa of This Healthy Kitchen.
Or try this tofu ham by Larisha and Andrew of Make It Dairy Free.
My vegan turkey roast has a salty maple glazed "skin" and is wonderfully savory, moist, and delicious.
Here are some savory side dishes to serve with pineapple stuffing: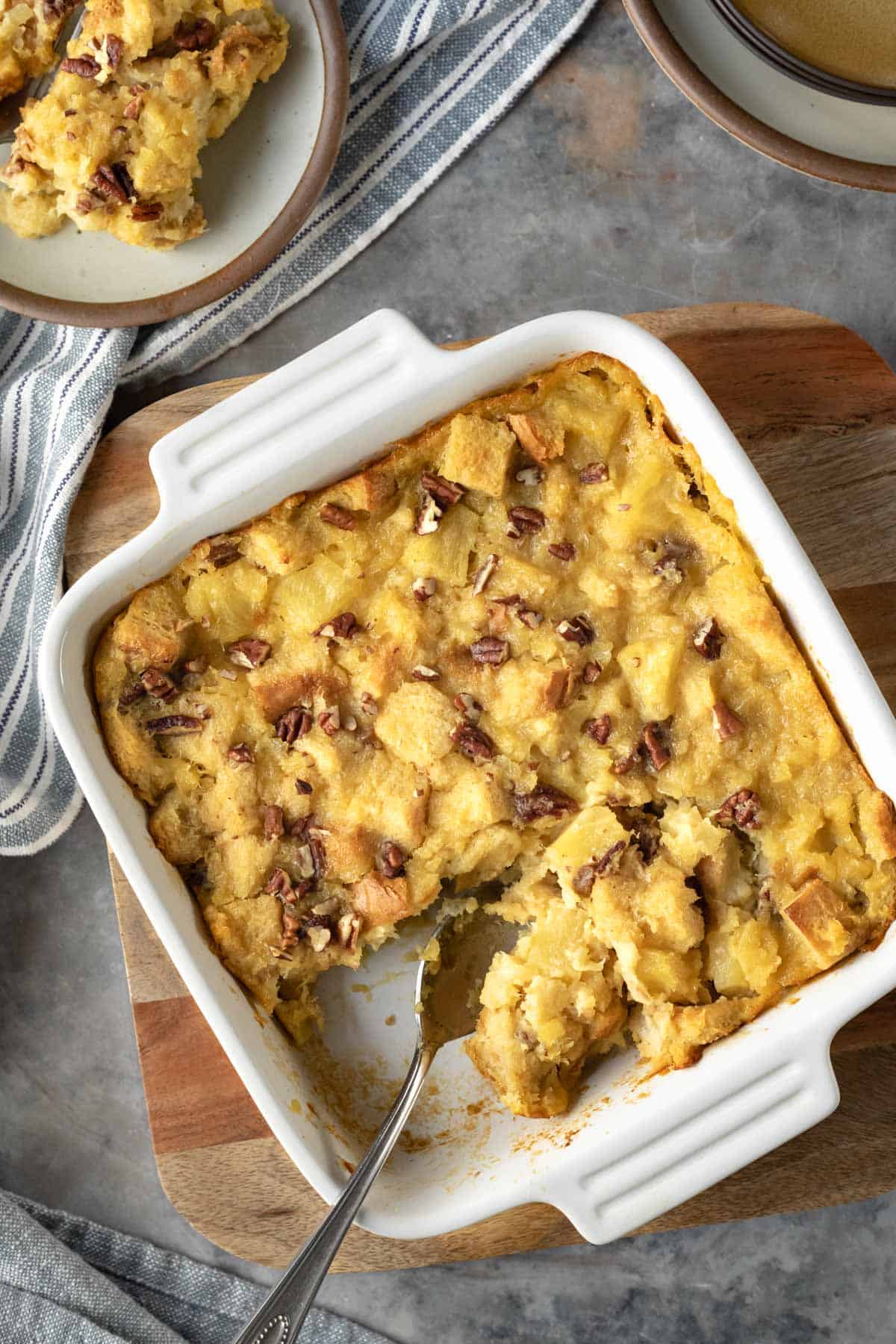 Variations
nuts - chopped pecans or walnuts add nice texture. Mix some into the stuffing and reserve a handful to sprinkle on top.
less sweet - reduce the total sugar to a scant ½ cup (instead of ⅔ cup). Use regular, brown sugar, or a combination. I haven't had a chance to test other sweeteners, but this recipe is fairly forgiving! Feel free to experiment.
cheese - here's a wild idea! Remember the pineapple casserole I mentioned above? The ingredients are very similar to pineapple stuffing, but instead of bread it calls for shredded cheddar cheese and is topped with buttery crumbled Ritz crackers. Talk about savory and sweet!
I haven't tried this yet, but if you feel like experimenting... add 1 to 1 ½ cups shredded Violife Mature Cheddar (or another cheddar) to this recipe for a pineapple stuffing/casserole hybrid.
Note: some pineapple stuffing recipes include a more savory spin, adding sauteed celery and sometimes even onion and herbs. But I just can't bring myself to get that weird... yet.

For now, this harmoniously sweet version is making our taste buds very happy!
Equipment Needed
large mixing bowl
9-inch square (2 Qt.) baking dish - I use a glazed ceramic dish. Glass is fine, too. Keep in mind that a metal baking dish conducts heat more quickly and less evenly. If you use a metal pan expect cook time to be reduced.
Recipe FAQs
Can I make pineapple stuffing in advance?
Yes, you can prep this recipe ahead of time two different ways. Assemble it in the morning and refrigerate until ready to bake on the same day. I wouldn't store it this way overnight because the bread will break down. Or fully bake the stuffing up to 3 days in advance. Cover and refrigerate, then move the covered dish to the oven to reheat about 45 minutes before serving.
How long does it keep?
Stored in an airtight container in the refrigerator, the stuffing is good for up to 5 days. Reheat individual servings in the microwave.
Can you freeze pineapple stuffing?
Yes, it is freezer-friendly. Place in a freezer-safe container or storage bag and freeze for up to 1 month.
You Might Also Like
I hope you enjoy this vegan take on pineapple stuffing!
If you try the recipe be sure to leave a comment and star rating below to let us know how it turned out! ⭐️⭐️⭐️⭐️⭐️
📖 Recipe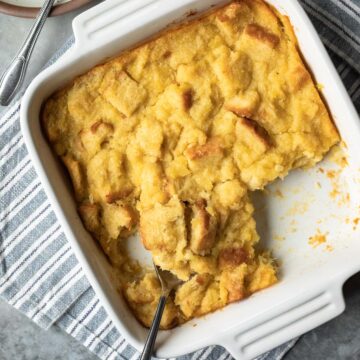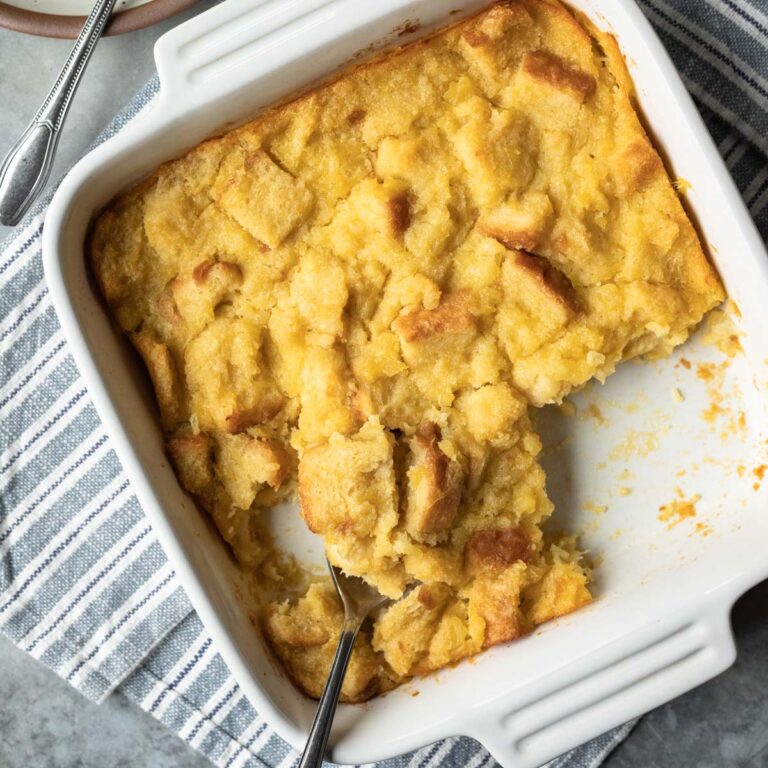 Vegan Pineapple Stuffing
Pineapple stuffing is the unique and sweet holiday side dish (or dessert!) everyone will rave about. It's like bread pudding, cake, and French toast all rolled into one! With sweet and juicy pineapple, thick, soft bread, and a hint of savoriness from JUST Egg and vegan butter. It's a delightfully different side dish for Easter and Christmas, and perfect anytime for brunch or dessert!
Ingredients
⅓ to ½

cup

chopped pecans, optional

4

tablespoons

vegan butter

¾

cup

liquid JUST Egg -

approx. half of a 12 oz. bottle

1

teaspoon

vanilla extract

⅓

cup

sugar

-

Tip: in the U.S. choose organic sugar to make sure it's vegan (not processed with bone char)

⅓

cup

light brown sugar

¼

cup

all-purpose flour (30 g)

1 ½

teaspoons

baking powder

¼

teaspoon

fine sea salt

20 oz.

can

crushed pineapple

-

in its own juice

1

cup

pineapple chunks, drained

-

about half of a 20 oz. can

5

large

slices white sandwich bread (7 oz), cubed

-

I used 365 brand.
Instructions
Preheat oven to 350 degrees F and oil a 9-inch square (2 quart) baking dish. If including pecans, place on a baking sheet and toast in the oven for 4 minutes. Set aside.

Place butter in a large mixing bowl. Microwave in 10 to 15 second intervals until it just begins to melt. Add the JUST Egg and microwave for a few more seconds to remove the chill. Whisk thoroughly. Add the two sugars and vanilla and whisk again.

In a small bowl stir together the flour, baking powder, and salt. Add this to the wet ingredients in the mixing bowl and whisk to combine. Stir in the crushed pineapple. Fold in the cubed bread, pineapple chunks, and pecans. If desired reserve a handful of pecans for the top.

Pour into the prepared baking dish. Sprinkle reserved pecans on top and lightly press into the surface. Bake uncovered for about 1 hour. The stuffing is done when piping hot in the center, set, and golden on top.

Let stand for 10 to 15 minutes and serve warm.
Notes
Measuring Flour
If you don't have a kitchen scale, measure the flour by whisking it first. Then lightly scoop up ¼ c cup, and level off the excess on top.
Gluten-Free
Gluten-free bread that is also vegan can be tricky to find, but if you have access to some, I'm sure it will work fine! And for the flour, a gluten-free baking blend is a good swap for regular all-purpose.
Storing and Reheating
Store leftover pineapple stuffing in an airtight container in the refrigerator for up to 5 days. Reheat individual servings briefly in the microwave. You can also reheat in a 350 degree oven. Cover the baking dish with foil so it doesn't dry out, and bake until warmed through. Leftovers may be frozen for up to a month.
Estimated Nutrition (per serving)
Calories:
245
kcal
Carbohydrates:
38
g
Protein:
6
g
Fat:
8
g
Cholesterol:
0
mg
Nutrition information is an estimate and will vary depending on the exact amounts and specific products and ingredients used. We calculate this information using the online calculator cronometer.com.
Tried the recipe?
I love hearing from you! Share your feedback below.