Looking for vegan breakfast ideas? You're in the right place! From oatmeal and smoothies to scrambles, casseroles, and muffins, this list features a variety of vegan breakfast recipes to help you start your day in a delicious and nutritious way!
We've also included a few helpful tips for success, including how to stock your kitchen with easy plant-based breakfast staples.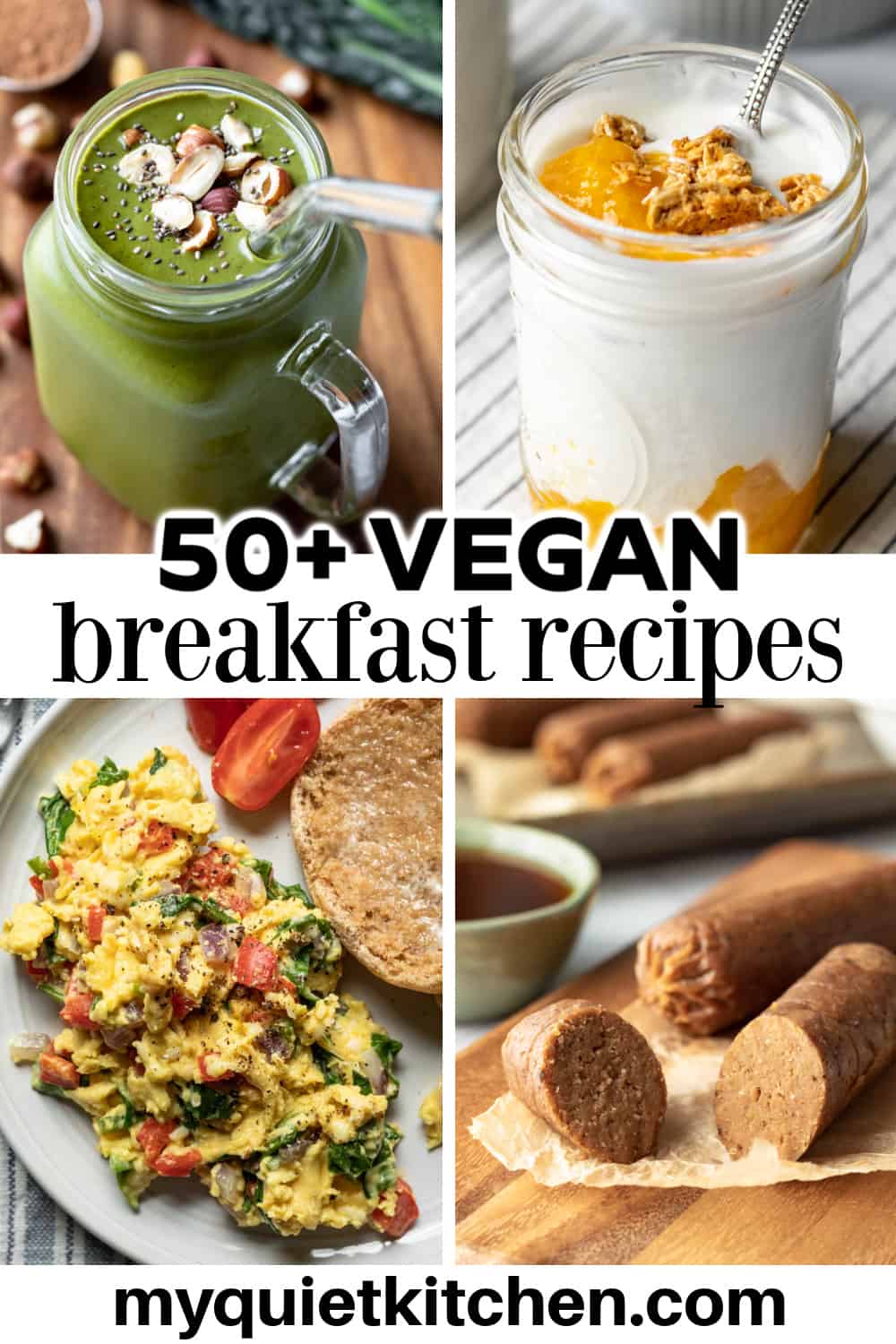 Breakfast is often the meal people struggle with the most when they first go vegan. And it makes sense when you think about it.
As Americans we've been conditioned to think of eggs, milk, yogurt, bacon, sausage, and pastries as our go-to breakfast options. But times are changing!
This article will help you think outside of the box when it comes to planning a healthy, balanced vegan breakfast. Trust me, there are SO many plant-based foods to enjoy!
You might choose to replace eggs, dairy, and breakfast meats with their vegan alternatives, or branch out and try completely new foods.
With just a little bit of education and planning, knowing what to eat for breakfast as a vegan will become second nature.
Jump to:
So when you replace something like a sausage biscuit with oatmeal or a smoothie, you feel full initially because of the volume and fiber, but you're likely consuming a fraction of the calories your body is used to.
This is why it's helpful to have at least a basic understanding of nutrition and the macro-nutrient composition of common foods.
Easy Vegan Breakfast Swaps
milk - with so many non-dairy milk options available, replacing dairy milk for your cereal is now one of the easiest things about being vegan!
coffee creamer - giving up half-and-half in our coffee is something many people struggle with (I've seen this mentioned SO many times in Facebook recipe groups). And I totally get it! Most of us want a coffee creamer that's neutral in flavor like half-and-half and that is NOT sweetened.
My personal favorites are:

Nut Pods original unsweetened
oat milk - but not a low-fat variety; try one similar to Oatly original. It's seriously delicious in coffee.
Califia Farms unsweetened oat creamer
plain soy milk - I like to keep a box of shelf-stable unsweetened soy milk in the pantry for just this reason. It's also great for baking.

yogurt - there are two vegan yogurt recipes listed below if you'd like to make your own! There are also many varieties of vegan yogurt available in stores from brands like Nancy's (oat yogurt), Kite Hill (we love their plain Greek-style yogurt), Forager, and more.
breakfast meats - swap bacon and sausage for plant-based alternatives by brands like Lightlife, Field Roast, and Beyond Meat.
eggs - tofu is the original "incredible, edible vegan egg" and can be crumbled for scrambles or blended for quiche. Chickpea flour is also useful for vegan frittatas and quiche. Or try a product like JUST Egg.
cheese - if you need shredded cheese for a vegan omelette or a slice of cheese for a biscuit or breakfast sandwich, most grocery stores have multiple options. We love Violife slices and shreds, Chao original slices, Miyoko's mozzarella, and Daiya cutting board shreds for melting.
baked goods and pastries - this is often the trickiest category because eggs and dairy are so often used in baking. If a label doesn't clearly state that a product is vegan, take a moment to check the ingredient list for ingredients like egg, milk, whey, and honey.
Ingredients to Have on Hand
Stock up on these pantry-friendly breakfast staples:
non-dairy milk - try refrigerated varieties but also don't forget about the boxed ones on the grocery store shelves. They're smaller and great if you live alone and can't finish a big carton by yourself.
nuts and seeds - nuts and seeds can help you feel more full and are loaded with important nutrients such as amino acids (protein), and essential fatty acids. Some of our favorites for breakfast are: walnuts, almonds, pumpkin seeds, hemp seeds, and chia seeds.
oats and other grains - keep old fashioned oats on hand for oatmeal and baking. Also try steel cut oats and alternative grains like millet, buckwheat, grits, and teff.
breads & cereals - there are tons of vegan-friendly breads and cereals in stores. Find a few favorites and you'll have easy options to fall back on for quick breakfasts.
canned beans and hummus - beans are healthy, filling, and can be added to everything from tofu scramble to potato hash. Or mash and spread on toast.
protein powder - an easy way to add flavor and protein to smoothies, oatmeal, and overnight oats.
fresh and frozen fruit - we always have frozen blueberries or mixed berries in the freezer for adding to smoothies and oatmeal. Bananas and apples are also great for breakfast. A banana and a spoonful of nut butter makes a light and quick breakfast!
greens and other veggies - spinach and kale are great for green smoothies and salads. Onions, mushrooms, and peppers are great for scrambles and quiche.
egg and meat substitutes - tofu, tempeh, vegan sausage, etc. Keep some in the fridge and some in the freezer so you're always stocked up!
And now, here are more than 50 vegan breakfast recipes to help you start your day off right!
50+ Vegan Breakfast Recipes
---
---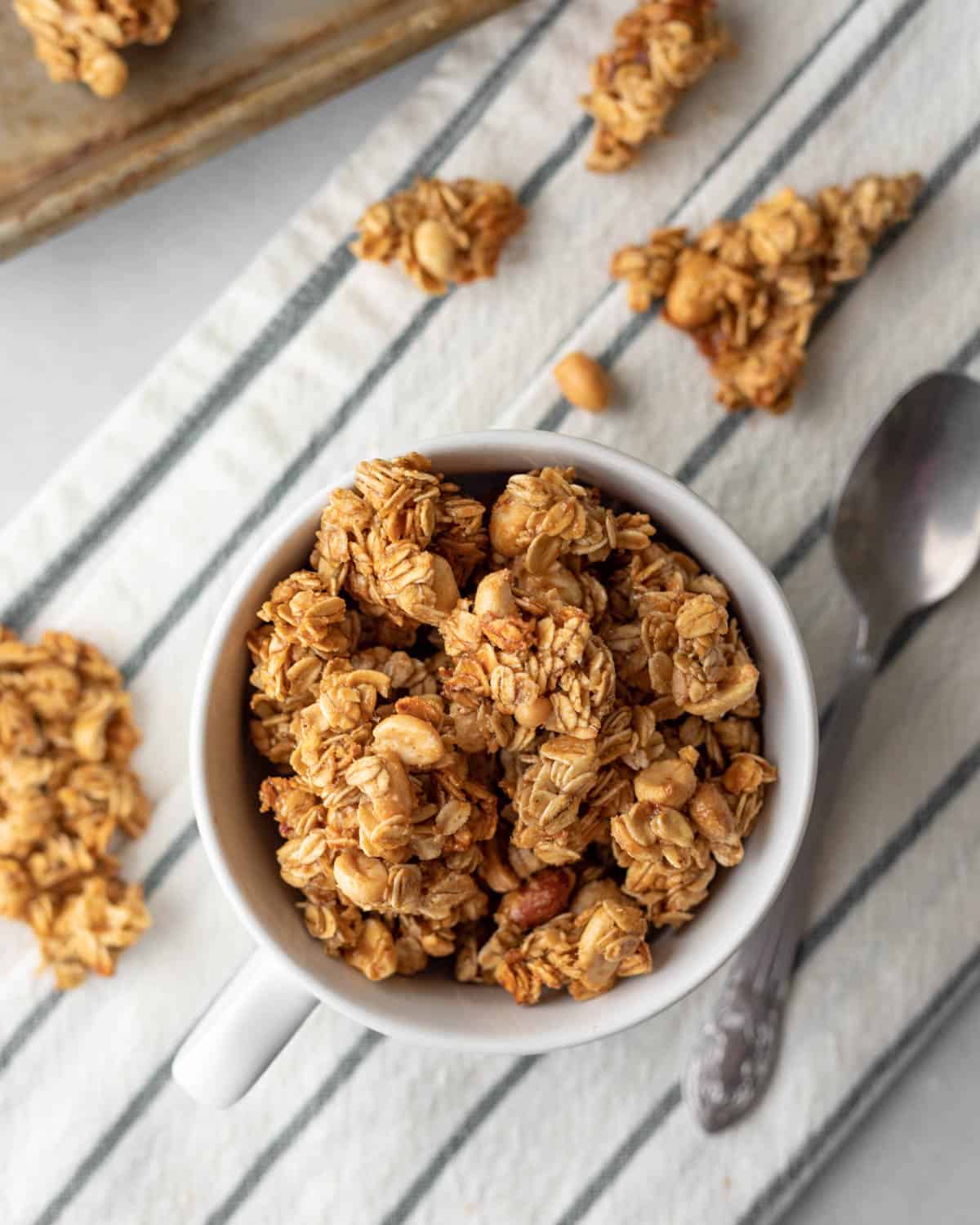 ---
Vegan Yogurt and Pudding
---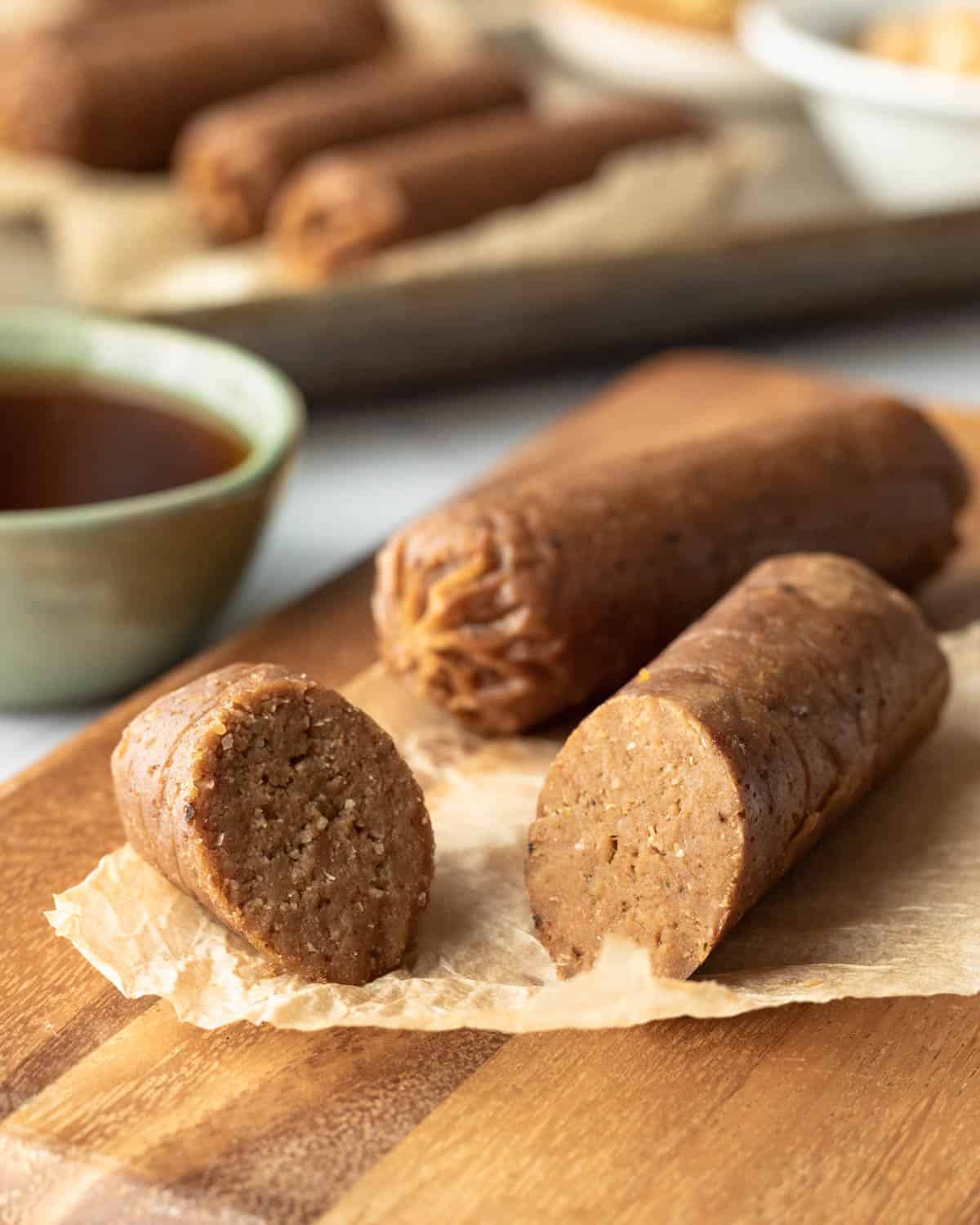 ---
Vegan Breads and Muffins
---
Pancakes and Waffles
---
Other Grains
---
Breakfast Cookies and Bars
---
Vegan Breakfast FAQs
I hope this collection of vegan breakfast recipes has helped you find some new favorites. If you try any of the recipes be sure to comment below and let us know!
📖 Recipe